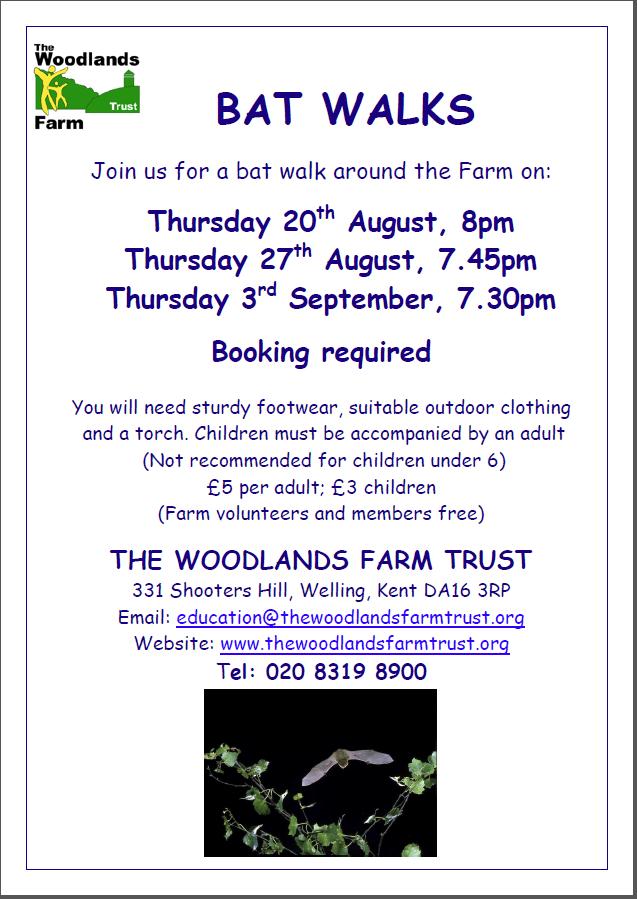 Bats are getting more and more popular, and there are lots of opportunities to see and hear native bats. The next local bat walks are hosted by Woodlands Farm. Hannah, their Education Officer wrote with details:
Thursday 20th August   8pm,   Thursday 27th August   7.45pm,  Thursday 3rd September   7.30pm


Join us for a bat walk around Woodlands Farm. We have a number of different bat species living on the farm so this is a great opportunity to find out more about bats and see what we can find. You will need sturdy footwear, suitable outdoor clothing and a torch. This activity is not recommended for children under 6. £5 per adult and £3 per child. Booking is essential. To book call 020 8319 8900.

For more information, see our website or contact Hannah Forshaw on education@thewoodlandsfarmtrust.org
A good number of bats were detected at the farm as part of the Bat Conservation Trust's National Bat Monitoring Programme in July, both common and soprano pipistrelles and some very clear noctules. Let's hope they all show themselves in the bat walks, but even if they don't there's something magical about walking the farm's woods and meadows in the half light.
Not too far away from Shooters Hill, there are also bat walks coming up at Hall Place on Tuesday 25th August and Thursday 27th August in their beautiful gardens along the river Cray, and on 11th September Thames Water Crossness have a bat walk around the nature reserve north of Eastern Way. Their walk along Southmere Lake last week was one of the best I've been on for visibility and variety of bats, despite the persistent rain.  Quite a few noctules and serotines were seen swooping over the water, and pipistrelles darting just overhead around the lakeside trees. They don't expect the walk in the nature reserve to be quite as spectacular.
Also on 11th September the Friends of Shrewsbury Park will be holding their second bat walk of the season. The perfect place for a lark in the park in the dark, hopefully enlivened by the heterodyned sound of echo-locating bats and the sight of them flitting just above head height.
Finally for bat fans there is annual Bat Fest at the Natural History Museum on 29th and 30th August, starring the marvellous Jenny Clark MBE and her education bats. Here is a video of Jenny at her bat hospital talking about bats in her own inimitable style.