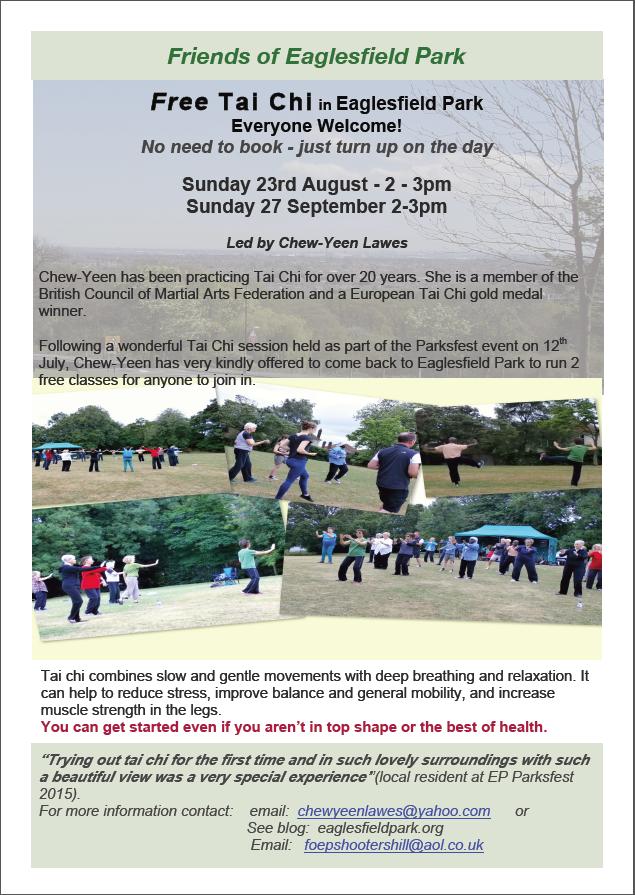 Following the successful Tai Chi session at Eaglesfield Park's picnic last month the Friends of Eaglesfield Park have arranged two more Tai Chi sessions, the first tomorrow (Sunday 23rd August) at 2.00pm. Madeleine from the Friends wrote with details:
Following a wonderful Tai Chi session held as part of the Parksfest event on 12th July and the requests of local residents, Chew-Yeen has very kindly offered to come back to Eaglesfield Park to run 2 free classes for anyone to join in. Chew-Yeen  has been practicing Tai Chi for over 20 years.   She is a member of the British Council of Martial Arts Federation and a European Tai Chi gold medal winner.
Tai chi combines slow and gentle movements with deep breathing and relaxation. It can help to reduce stress, improve balance and general mobility, and increase muscle strength in the legs.   You can get started even if you aren't in top shape or the best of health.  Come and join in on: Sunday 23rd August and Sunday 27th September  (both days 2 – 3 pm)
A wonderful opportunity to try a few Tai Chi moves and  learn how it can improve your health and well being and according to a local resident at the Eaglesfield Park Parkfest 2015   "Trying out tai chi for the first time and in such lovely surroundings with such a beautiful view was a very special experience'"
There is no need to "book a place", just turn up.  However it would be helpful if you could let Chew-Yeen know if you are interested so that she has an idea of the number of people to expect or if you need further information.  Please email her at: chewyeenlawes@yahoo.com .
Having tried out a few Tai Chi moves, why not linger a while – relax and enjoy the peaceful ambience of the park and a "communal  picnic" to share with other participants.   Perhaps you could bring a "covered dish" – some french bread and cheese, or mixed salad or cakes or fruit or a few sandwiches or your very own "signature dish".    It's a great way to make new friends and has proved popular on previous occasions.   Don't forget the flask of tea or coffee !
It really is worth coming to see what Tai Chi is all about and Chew-Yeen's enthusiasm and expertise may well inspire you too!
And it is Free !
Please note however  ………… Weather permitting !  Check our blog www.eaglesfieldpark.org   on the morning of 23rd August and 27th September for cancellation due to bad weather.
Let's hope the showers forecast for tomorrow afternoon hold off .