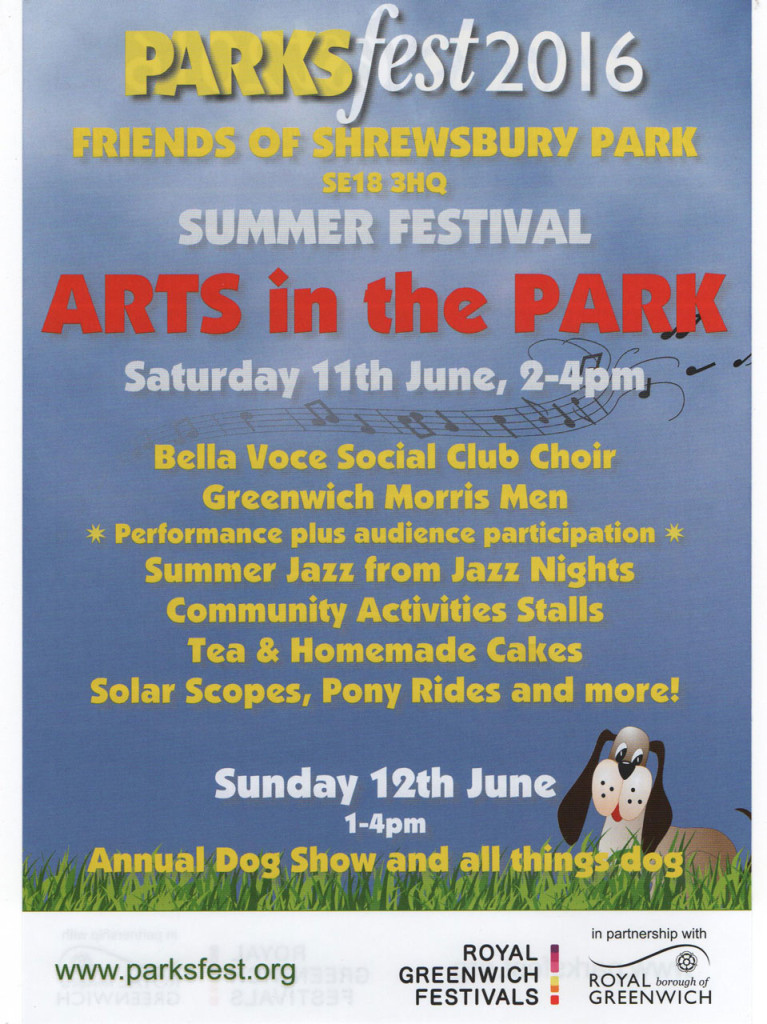 The Friends of Shrewsbury Park are holding a weekend of festivities to mark their tenth anniversary: they first met on 13th March 2006, and have been responsible for many improvements to the park since then. Kathy, the Chair of the management committee wrote with details:
We are planning a weekend of events to celebrate our 10th birthday.  On Saturday 11 June we are holding our summer festival of jazz, choir and dance from 2 – 4pm.  On Sunday 12th June, we are holding our fabulous Dog Show from 1 – 4pm.

Saturday 11 June 2-4pm – we have Bella Voce Social Club Choir, Greenwich Morris Men, Summer Jazz from Jazz Nights, Community Activity Stalls, Solar Scopes, Pony rides and more
Sunday 12 June 1-4pm – our fabulous Dog Show featuring fun agility course, best rescue dog, Shrewsbury's got talent, best child handler, Puppy class (under 12 months), best fancy dress, obedience class, fastest dog. You need to enter your dog at the Registration desk at 12.30. The £2 per class goes towards the fundraising for the drinking fountain.
The park's summer festivals are always very enjoyable, with lots of different activities from the Flamsteed Astronomy Society demonstrating how to safely view the sun through to the traditional dancing of the Greenwich Morris Men. And the dog show is always great fun. This year's line-up looks the best yet.