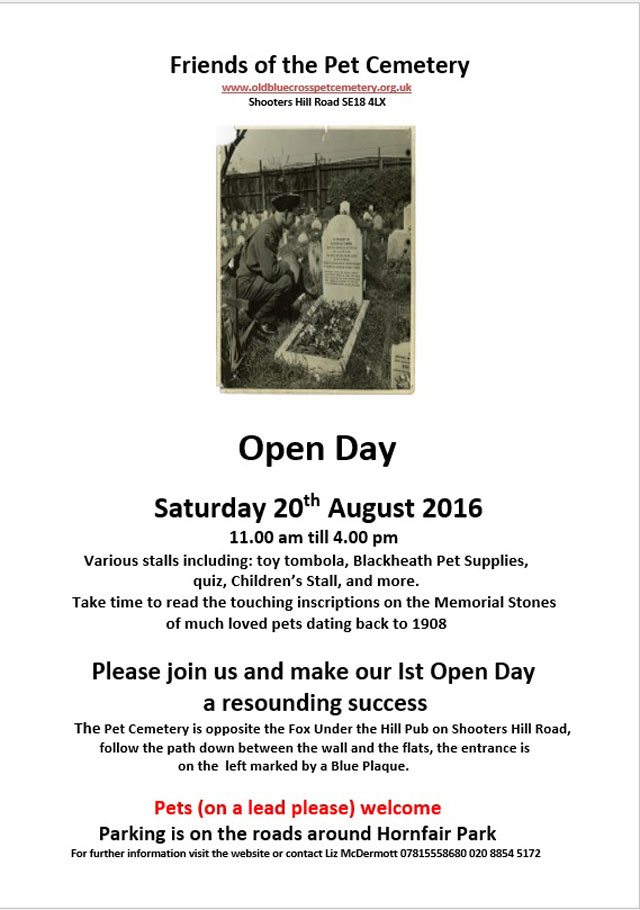 The Friends of the Pet Cemetery are holding their first open day on Saturday 20th August 2016 from 11.00 am to 4.00 pm. Liz, the Friends' Chair, wrote with details and with an update on their achievements to date. They will have various stalls including a toy tombola, Blackheath Pet Supplies, a quiz and a children's stall. There will also be an opportunity to learn more about the history of the Old Blue Cross Pet Cemetery and browse the pet memorials.
There seem to be more improvements at the pet cemetery every time I drop in. The most notable recent changes are the new circular benches around the trees in the cemetery, funded by a grant from the Metropolitan Parks and Gardens Association and installed by Eltham  Men in Sheds, and a trellis arch with a stone seat funded by the Greenwich Community Projects Scheme. The garden beds have also benefitted from hard work and lots of new plants, and more of the old memorials to deceased pets have been cleaned up. They have also recently completed mapping the memorial stones and have put up a notice board at the entrance to the cemetery.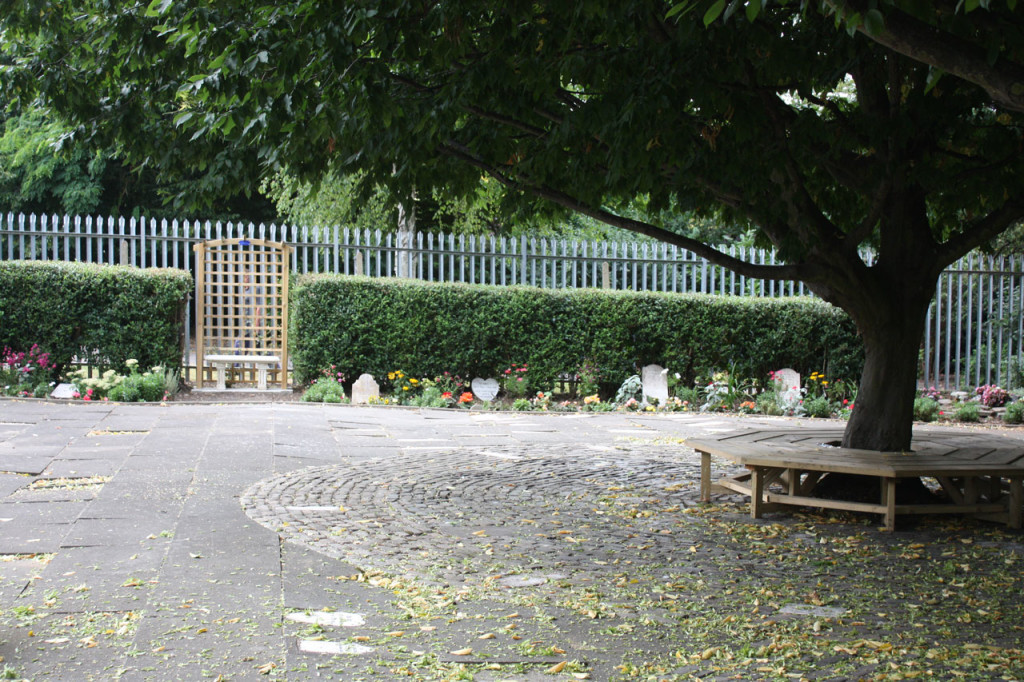 The most interesting part of the pet cemetery to me is the old memorials and the enigmatic stories hinted at by their inscriptions. One that I noticed when I first visited the Pet Cemetery a few years ago looked like it had recently been cleaned, revealing its moving inscription more clearly. It was to a dog called Simba:
IN MEMORY OF
FAITHFUL SIMBA
AND HIS UNSELFISH DEVOTION
TO E.A ? R.C.M.
HE DIED ON 4TH DEC 1935
AGED 14 YEARS
AFTER 12 YEARS SERVICE WITH THE 93RD
AT HOME IN JAMAICA CHINA ? INDIA

WE COULD NOT, IF WE WOULD, FORGET
EACH OTHER. WHEN IN TURN THE DARK
SHALL GLAZE MY EYES, YOUR JOYOUS BARK
WILL GREET ME ECHOING TO THE SKY.
TILL THEN, DEEP LOVING HEART, GOODBYE
The Pet Cemetery is opposite the Fox Under the Hill Pub on Shooters Hill Road, follow the path down between the wall and the flats, the entrance is on the  left marked by a Blue Plaque.