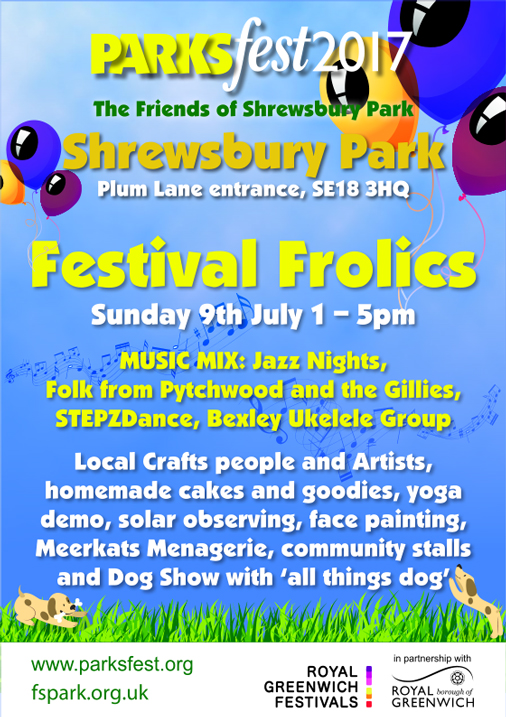 The Friends of Shrewsbury Park are holding another of their marvellous summer festivals this Sunday, 9th July. The event kicks off with the official opening of the new drinking fountain, The Watering Hole, at 12.30pm by the Mayor of Woolwich, Peter Brooks along with "at least two" of our local Councillors. The new fountain was partly funded by the councillors' ward budgets as well as money raised over the years by the Friends.
This year's festival is packed with events and music. As well as the amazing dog show, there will be community stalls, crafts people, ice cream, face painting and yoga. Local Tai Chi teacher Dorothy Ng will present  a Tai Chi demonstration from 1pm to 1.30pm, and the StepZ Dance troupe will be showing their skills.  Intriguingly Emergency Exit Arts will be revealing the secret life the urban meerkat in their Meerkat Menagerie and the astronomers of the Royal Observatory's Flamsteed Society will be bringing along their specialist telescopes and equipment for some solar observing.
Musical entertainment will be provided by Jazz Nights, folk duo Pytchwood, Susan Turner and Mark (Gilly) Evans of the Gillies and the Bexley Ukulele Band.
Registration for entry to the dog show events starts at 12.30pm, costing £2.00 per class, with the following competitions:
Fun agility course;
Best rescue dog;
Best fancy dress;
Puppy class (under 12 months);
Best child handler;
Obedience class;
Best biscuit catcher;
Dog most like its owner;
Fastest dog.
Unmissable, as usual.