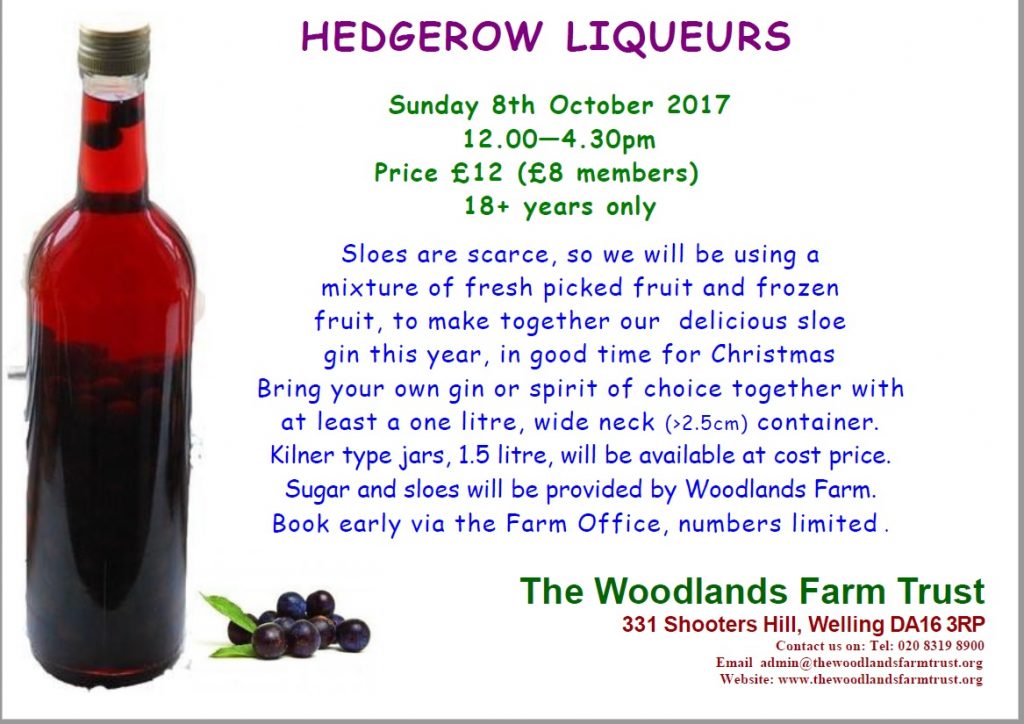 There's lots going on at Woodlands Farm during October: a Hedgerow Liqueurs course on Sunday, the annual Apple Day fête, half-term activities for children and the regular range of ecological surveys.
Hannah, the Education Officer at the farm, wrote with details of the Hedgerow Liqueurs course:
HEDGEROW LIQUEURS
Sunday 8th October 2017     12.00—4.30pm
Price £12 (£8 members)  18+ years only
Sloes are scarce, so we will be using a mixture of fresh picked fruit and frozen fruit, to make together our delicious sloe gin this year, in good time for Christmas
Bring your own gin or spirit of choice together with at least a one litre, wide neck (>2.5cm) container. Kilner type jars, 1.5 litre, will be available at cost price. Sugar and sloes will be provided by Woodlands Farm.
Book early via the Farm Office, numbers limited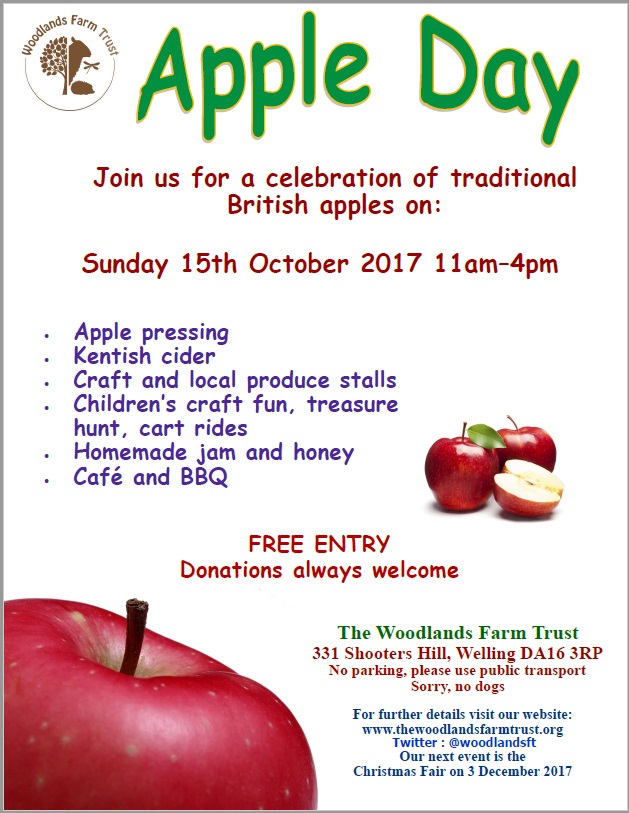 This is followed by the annual Apple Day fair on the following Sunday:
Join us for a celebration of traditional British apples on Sunday 15th October 2017, from 11am-4pm. Discover and buy many different types of traditional British apples. There will be a variety of activities including a treasure hunt, apple pressing to make delicious juice, stalls selling local produce, including our own honey and home-made jams, cakes and try some Kentish Cider. A great day out for all the family. Entry is free, but donations are welcome and go towards the running of the Farm. No parking on site. Please use public transport.
Archy, the farm's new Manx Loaghtan ram, should be out in the field with the ewes by then: he's getting a bit frustrated in his current home in the barn. The farm will also be getting some longhorn cattle soon as they start to focus more on rare breed animals.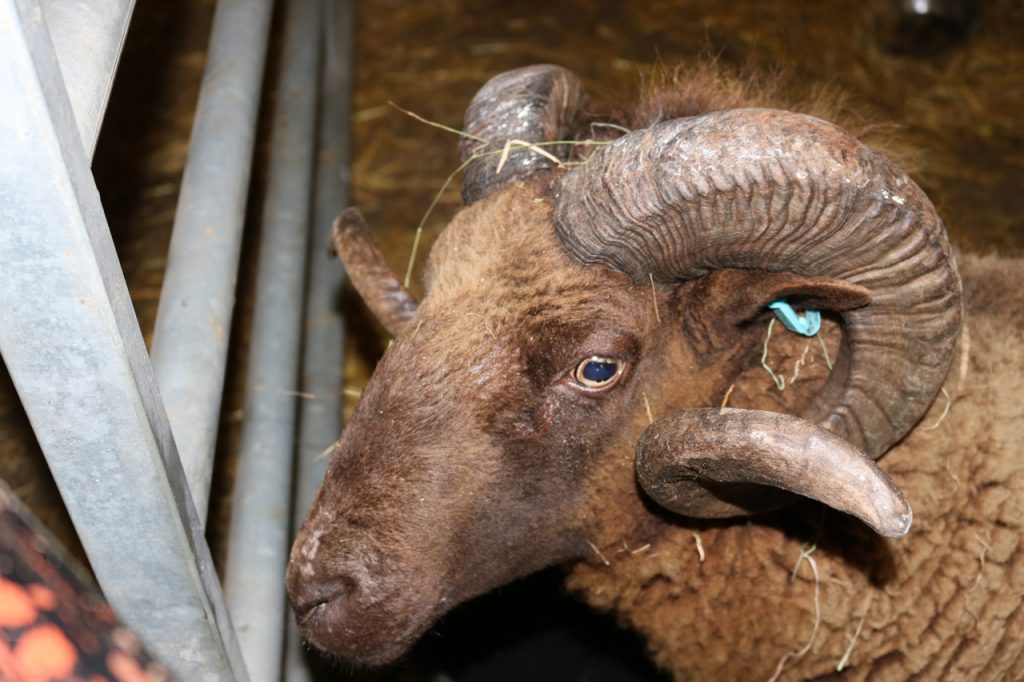 At the end of the month it's half term week, and as usual the Farm have laid on some interesting and educational activities for children. Again Hannah wrote with the details:
October Half Term Events
Wednesday 25th October   Farm Rhymes and Riddles 1pm-3pm £2 per child
Test your skills at solving rhymes and riddles as you try our trail. Can you figure out what animal each riddle is about, while exploring the farm. Work them all out and get a prize! There will also be a chance to meet some of our animals. No need to book just drop in.
Thursday 26th October   Leaf Lanterns 10am – 12noon and 1pm-3pm £4 per child
Join us for an autumn walk round the farm to find out about different types of trees and leaves. We will be collecting what we find to then use to make and decorate a leaf lantern to take home. Booking is essential, to book call 020 8319 8900.
Friday 27th October     Halloween Trail and crafts 11am-3pm £3 per child.
Halloween is just round the corner so join us for a day of spooky crafts. There will be a creepy animal facts trail round the farm where you can find out all the gruesome and scary things about British wildlife. Come dressed up to get in the full spooky spirit. No need to book, just drop in.
The farm's regular schedule of ecological surveys continues through the month. Previous months have seen surveys of pond life, bees, moths, bats and wild flower meadow plants (lots of magical missile-repelling Corky Fruited Water Dropworts), and the first mammal surveys. The mammal surveys continue this month and there is the last of the monthly bee walks of 2017. The currently planned survey activities for October are:
Wednesday 11th October 3.30pm – Mammal survey setting up traps
Thursday 12th October, 9am – Mammal survey collect traps
Tuesday 17th October, 3.30pm – Mammal survey setting up traps
Wednesday 18th October 9am – Mammal survey, collect traps
Wednesday 18th October, 2pm – Bee walk – last of the year
Monday 30th October, 10am – Dipping pond maintenance. Wellies or waders recommended!
If you'd like to help with the wildlife surveys contact Hannah Ricketts on education@thewoodlandsfarmtrust.org