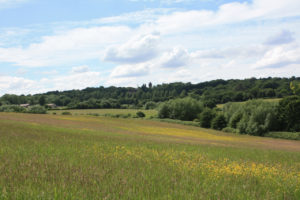 What better way to start  2018 than with a New Year's Day guided walk around Woodlands Farm? Hannah from the farm sent details:
New Year's Day Guided Walk Monday 1st January 2018 11am – 12.30pm
Start the year with a bracing stroll around Woodlands Farm- a winter guided walk to counter the seasonal excesses. This will be an easy paced walk to look at the farm and animals in winter and the way the farm works with nature. Please wear suitable clothing and footwear for walking across fields. This walk is not suitable for children under 10 years. Meet outside the cafe in the farmyard. Free, donations welcome.

For more information, see our website or email admin@thewoodlandsfarmtrust.org

Woodlands Farm is located on the borders of the London boroughs of Bexley and Greenwich. At 89 acres, it is the largest city farm in the UK. Our priorities are education and conservation, and we are part of the Natural England Higher Level Stewardship Scheme. Our education programme attracts visitors from pre-school to third-age groups. The Trust aims to involve local community groups, schools, volunteers and businesses in farming and conservation, helping to bridge the current town-country divide.
While at the farm there's a chance to see two new calves: crosses between the farm's British Whites cows, Snowdrop and Honeysuckle and Aberdeen Angus bulls. There may even be a third calf by Monday as the farm's other British White, Clover is due to give birth any day.
Happy New Year!