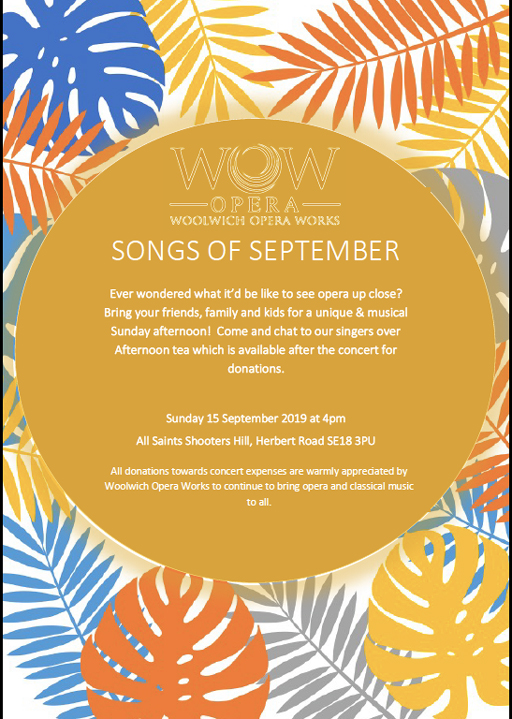 The wonderful Woolwich Opera Works will be performing another concert, Songs of September, at All Saints Church this Sunday starting at 4pm. As usual they have a line up of talented, professional opera singers and "will feature music of Verdi, Puccini, Schubert, Finzi, Vaughan Williams, Britten and have a particular focus on art song but still with lots of classic favourites!"
The artists performing on Sunday are Tanya Hurst (soprano), Maciek O'Shea (bass), Dominic J. Walsh (tenor and artistic co-ordinator), Paul Plummer (pianist) & Angela Yang (soprano).
Woolwich Opera Works previous concerts at All Saints have all been inspiring musical occasions, even for those who aren't great opera fans. We're lucky to be able to experience such talented musicians in such an intimate venue. Their last concert, "Cooling Classics", in June, finished with an audience sing- along to the Toreador song from Carmen led by Baritone Grant Doyle. I understand that the culmination of Sunday's concert will be a similar sing-along to Volare by Franco Migliacci and Domenico Modugno.
The concert is free but there will be a collection at the end. Refreshments are available in the interval.