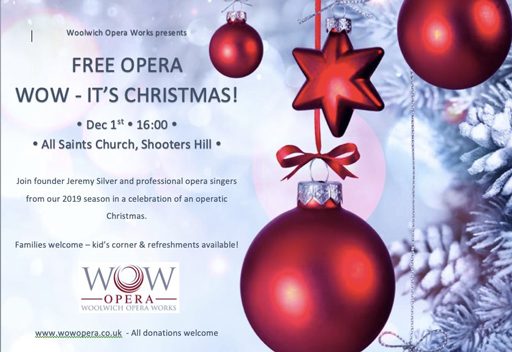 The accomplished professional singers of Woolwich Opera Works will be performing for us again on Sunday at All Saints Church on Herbert Road, starting at 4.00pm in a concert entitled WOW – It's Christmas.
WOW's web site describes the event:
WOW – It's Christmas!
Join Jeremy Silver, Alison Dunne, Maciek O'Shea, Dominic J. Walsh, Samuel Stopford & Angela Yang in a celebration of operatic winter and Christmassy cheer! Hear music by Puccini, Verdi, Mozart, Vaughan Williams, Schubert and more in a concert for everyone, especially people who are new to classical singing! Christmas jumpers are welcome but not a pre-requisite, and this concert will also include a Kid's Corner with activities for the little cherubs.
Looking forward to seeing you all there!
We will also be announcing our 2020 Season so you won't want to miss that!
As usual the concert is free but there will be a collection at the end. Refreshments are available in the interval.
Wonderful singing in a lovely setting. Unmissable!