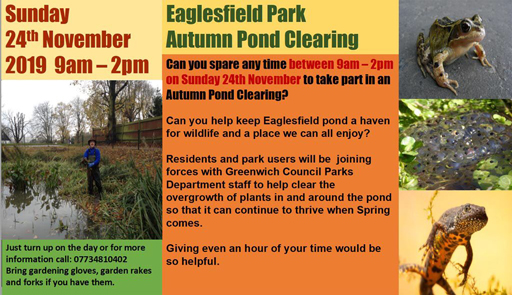 Pond Clearance CANCELLED
Message from Friends of Eaglesfield Park
While the Parks team has secured resources they don't have the all important waders!
Look out for a new date in January.‬
The Friends of Eaglesfield Park will be clearing the park lily pond and the garden around it tomorrow, 24th November, between 9.00am and 2.00pm, and would welcome volunteers to help. They wrote:
Can you spare any time between 9am to 2pm this Sunday 24 November to take part in the 'Autumn Pond Clearing' and help keep Eaglesfield pond a haven for wildlife and a place we can all enjoy?
Residents and park users will be joining forces with Greenwich Council Parks Department staff to help clear the overgrowth of plants in and around the pond so that it can continue to thrive when spring comes.
Giving even an hour of your time would be so helpful.
Just turn up on the day or for more information please call: 07734 810402 and see the attached PDF.
Please bring gardening gloves, garden rakes and forks if you have them.
Thank you and please share this message with friends, family and neighbours!
Do pop along and help the Friends get the pond ready for winter.