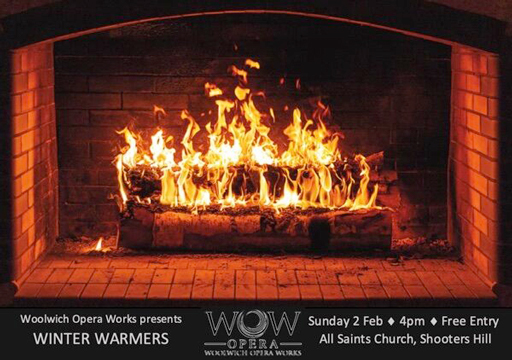 There's another chance to experience the wonderful music of Woolwich Opera Works on Sunday at All Saints Church on Herbert Road, starting at 4.00pm, when they will be entertaining us with their Winter Warmers concert. They e-mailed with the details:
Welcome to the 2020 Woolwich Opera Works Season.
Our first concert will feature some familiar faces, baritone Grant Doyle and tenor Samuel Stopford, as well as some new faces, soprano Imogen Roose and mezzo Vivien Conacher. These incredible singers are joined by Janet Haney on piano.
WOW – Winter Warmers!
In the chilly dark days of winter, what better way to warm your soul that with some stunningly beautiful operatic singing! Our singers will melt your souls with romantic ballads, schmaltzy songs and astonishingly beautiful arias!
4pm, Sunday February 2nd at All Saints Church, Shooters Hill.
Don't forget to bring someone new!
Once again the concert is free but there will be a collection at the end. Refreshments are available in the interval. Families are welcome, and there's a kids' corner.
We're so lucky to be able to see and hear such talented musicians in the intimate setting of All Saints Church, with Hans Feibusch's beautiful mural as a backdrop.