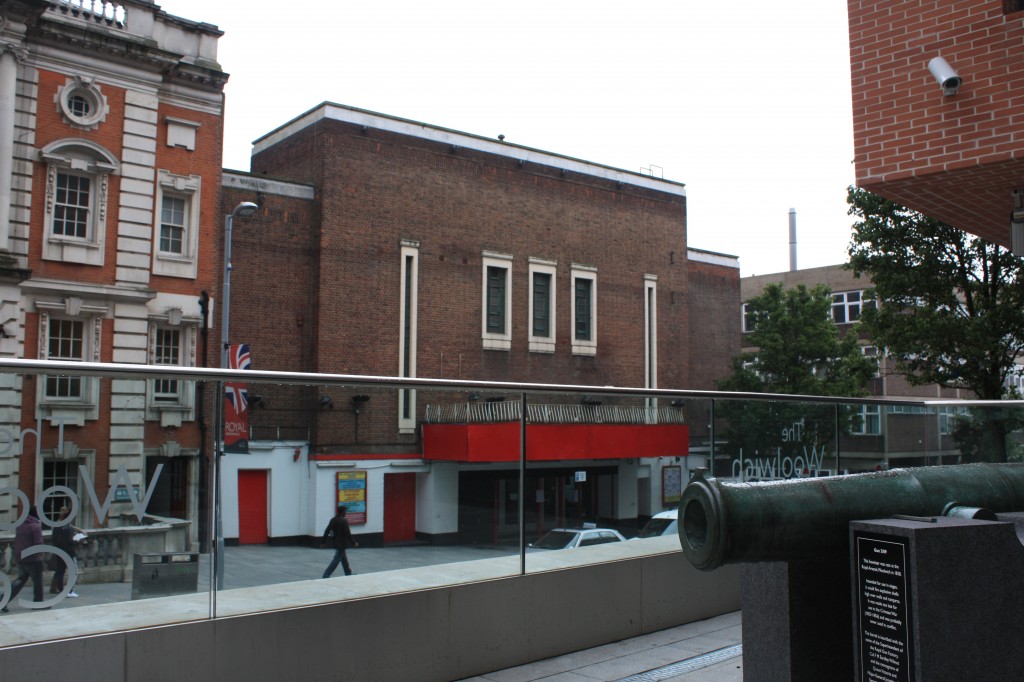 A talk by actress Emily Lloyd and a screening of  "Wish You Were Here", the BAFTA-nominated film that she starred in, kick off a regular series of events at the Woolwich Grand Theatre next Wednesday, 27th June. Emily Lloyd won Best Actress awards from the Evening Standard and the National Society of Film Critics for her role in the film, and was also nominated for the BAFTA Best Actress award. She later starred in the film "A River Runs Through It" directed by Robert Redford.
This is the culmination of a lot of work by the team at the Grand, including  a successful appearance before the Greenwich Council licensing committee and the sourcing and erection of a 20×25 ft cinema screen. The erection of the screen in the main hall by Woolwich Grand Director Adrian Green and volunteers  Scot and Sean is graphically described and pictured on the Grand's Facebook page.
Adrian intends to host a regular weekly sequence of events at the Grand, as he says:
…. we will be holding the following in the Red Room:
Wednesday- Film Screenings and Talks.
Thursday- Cabaret/Quiz Evening.
Friday- Music Night with a mixture of bands and soloists.
Saturday- Comedy Nights including stand-up and sketches.
Prices for these events will vary, so please e-mail us at info@thewoolwichgrandtheatre.com to enquire about tickets. Tickets can be bought through our paypal account or at our box office.
We will also be holding larger events in main hall once a month and these will be announced on our website and Facebook page.

These will be great evenings and we look forward to seeing you there!
The talk by Emily Lloyd on Wednesday starts at 6.30pm and the  film screening at 7.00pm. Tickets cost £10.00 and can be bought on the door or by contacting the theatre by e-mail, info@thewoolwichgrandtheatre.com. Food is available and there's a bar 'till 12.00. The quiz on the 28th is looking good too, previous music nights were excellent and I can recommend the lunches at the Arts Cafeteria.
Update: Adrian has now confirmed the other three events for next week on the Grand's Facebook page:
28 June at 18:30  Quiz Night and Cabaret ?
29 June at 18:30  Live music
30 June at 18:30  Comedy open mic night
All in the  Red Room Bar at the Grand.