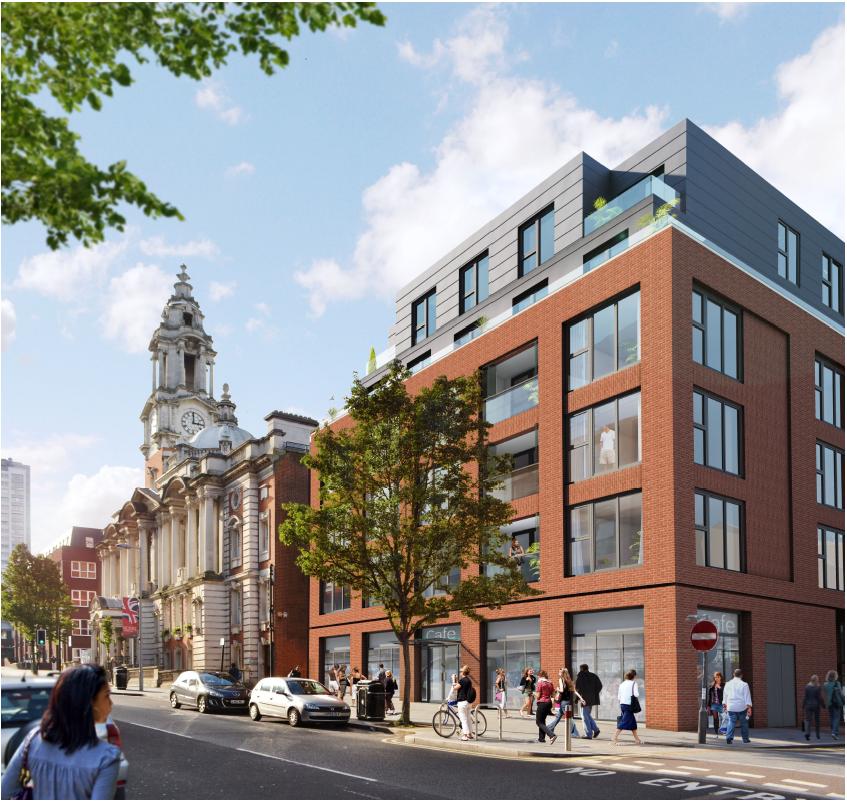 As expected a planning application has been submitted to demolish the Woolwich Grand Theatre and replace it with 46 flats and a cafe. The application description says:
13/2798/F | Demolition of existing buildings and the construction of a building comprising a lower ground level with 6 storeys providing 163sqm of A3 / A4 / D2 space on the ground floor and 46 residential units comprising 15 x 1 bed units and 31 x 2 bed units with associated disabled car parking, cycle storage and refuse storage. (REVISED DESCRIPTION) | 38 WELLINGTON STREET, WOOLWICH, LONDON, SE18 6PE
The application was submitted on behalf of a company called Secure Sleep Limited, which was incorporated just this year, on 14th January and a company called 38 Wellington Street Limited which is in administration. According to the current Title Register at the Land Registry the Grand Theatre is owned by 38 Wellington Street Limited who bought it on 13th March 2003 for £900,000. The register says that an agreement was made on 9th May 2013 to sell the property to one of the named directors of Secure Sleep Limited.
The application makes barely a nod to comments at the consultation event in September about the importance of the Grand as a cultural hub in the Bathway Quarter of Woolwich – an area that the Woolwich Masterplan says should have "bars, galleries and artists' studios together with other uses such as a jazz club and creative industries such as architect's studios." The Design and Access Statement, which contains most of the details of the application, includes the plan below purporting to show how the proposed commercial area at the front of the new building could be used to screen films. I'm surprised they bothered – it's not very convincing.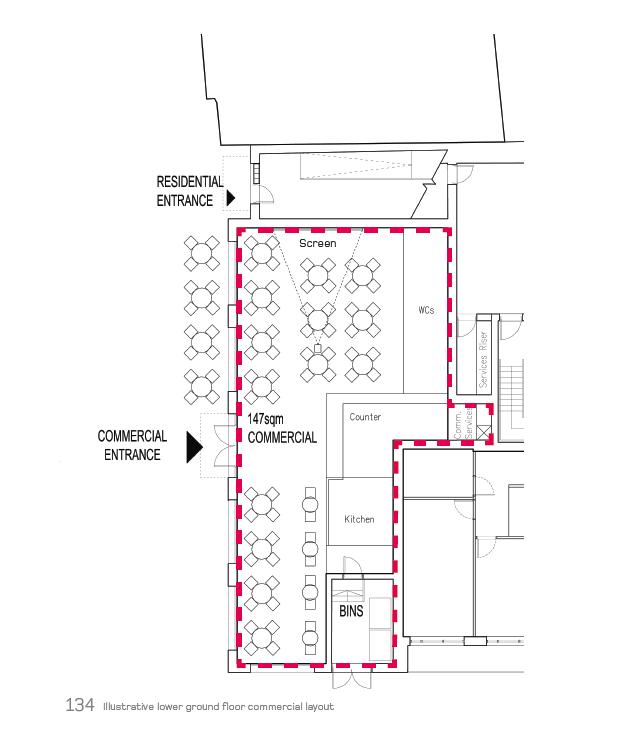 How can we help to save the Woolwich Grand? Well firstly we can sign the petition started by Stewart Christie calling on Greenwich Council to List the Woolwich Grand Theatre as an "Asset of Community Value" under the Localism Act 2011. It's got over 200 signatures already, in less than a week.
Secondly we can object to the planning application. This can be done very simply on-line through the Royal Borough of Greenwich's planning pages. If the link doesn't work then use the simple search to find 13/2798/F. Or we can object by letter, quoting reference 13/2798/F,  to:
Georgina Galley
Directorate of Regeneration, Enterprise & Skills
Woolwich Centre, 5th Floor,
35 Wellington Street,
London SE18 6HQ
Comments need to be submitted and letters arrive before 17th December.
The third way to help the Woolwich Grand survive is to go along to their events. They have a number arranged for the next month, listed below, and their Facebook page and web site are kept up to date with new ones.
"Gentlemen of Horror"
27th 28th 29th of November
7pm Red room. £7.50 plus concessions

Peter Cushing and Christopher Lee defined an era of British horror, starring in Hammer Horror films together for 26 years.
When they first worked together in "The Curse of Frankenstein" and "Dracula", Peter Cushing was one of the most famous actors in Britain, while Christopher Lee was unknown. For the next quarter of a century, these two killed each other again and again and became firm friends. As Christopher Lee became internationally famous, Peter Cushing gradually retired into a life of quiet obscurity. And yet neither quite lost their taste for blood…
In the Peter Cushing centenary year, The Gentlemen of Horror takes you backstage on Cushing and Lee's relationship, into the dressing rooms of the films they made together. The play will be followed by a screening of Dracula A.D. 72, starring Cushing and Lee.
Actors: Simon Kane and Matthew Woodcock
Writer: James Goss
Directed by Kate Webster
http://www.wegottickets.com/location/10449

Hansel and Gretel
1st December 1:30pm and 4pm

A Family Adventure packed with life-sized puppets and interactive storytelling.
Abandoned in the woods, Hansel and Gretel must escape the clutches of a hungry witch with their courage and cleverness. Follow the breadcrumb trail to the gingerbread house for interactive storytelling, live music and a set good enough to eat.
'If you think there is nothing new to be found in traditional tales, this approach could surprise you – they're well worth seeing'

King of Comedy night
6th of December at 7pm

Comedy again on the 6th of December at 7pm till 11pm in the red room in the form of King of comedy night.
The principle is simple 10 acts battle it out for the prize of king or queen for the night the audience decides who the winner is. This interactive principle is proving very popular among acts and audience members alike.
So come down and enjoy the show, get involved and have a laugh on us.

Roller Skating
7th December

The next roller skating event which will take place on Saturday 7th of December in the main hall. The evening will be split into two sections, from 3pm to 6pm there will be a family skating session followed by the adult session from 7pm to 11pm.

Family Skate Session:
With Skate Hire – £7.50
Without Skate Hire – £5.00
Spectator – £3.00

Roller Disco:
With Skate Hire – £10.00
Without Skate Hire – £8.00
Spectator – £3.00
Our aim is for everyone to enjoy both these fun events, see the flexible space available at The Woolwich Grand and have a great time as well as taking in other events that we're staging at The Grand.

"A Boy who Cried Wolf"
7th/8th December
21st/22nd of December

Gem and Ren take you on a journey to a perfect town where nobody lies at all… Or do they? We need future superstars, ballerinas, firemen and teachers to help us sing, dance, shout and shimmy our way through the story of A Boy Who Cried Wolf… Or did he?
To book tickets fellow link:  http://www.wegottickets.com/location/10449
I suspect it's not going to be easy to save the Grand, but what's the alternative – a Woolwich of flats and betting shops?