Despite being under threat of eviction, the Welling and District Model Engineering Society have announced their public running dates for 2012: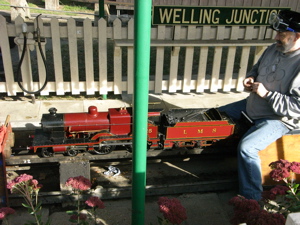 Public Running Dates 2012
We look forward to welcoming you back in 2012 for another summer of nostalgia, riding behind our steam and electric locomotives. The dates and timings have now been confirmed.
The railway and clubhouse will be open from 2:30-5:00pm. Train rides will be available for children and adults(!), with the last ticket issued at 4:30pm. Refreshments are available in the clubhouse.
Sunday April 22nd
Sunday May 6th 20th
Sunday June 3rd 17th
Sunday July 1st 15th 29th
Sunday August 12th 26th
Sunday September 9th 23rd
Sunday October 7th (last running)
The WDMES still haven't been given a firm date for when they need to vacate the site behind the electricity substation on Rochester Way, so they have planned a full year's events for 2012.
The Falconwood Miniature Railway is very popular with readers of this site.  The railway, in its various wordings,  is one of the most frequent searches that brings visitors here, attracted no doubt by my predecessor's sound recording and video of the miniature railway in action. I'll certainly be visiting one of their public runnings this year, and I've added the dates to the site calendar.