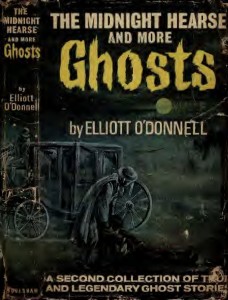 Elliott O'Donnell, one of the most famous ghost hunters of his day, wrote a very detailed and dramatic true account of a ghost in Shooters Hill in his story "The Vanished Suitor of Shooter's Hill".  This took place in Veremont House, Shooters Hill on January 3rd 1911.
Like all good ghost stories, after examining the haunted house with his pet fox-terrier, he decides to lock himself in ….
"Then I locked the front door, bolted all the windows, brewed myself some coffee over a spirit-kettle, gave the dog some milk and biscuit, and meditated where I had better sit for my vigil."
And then, shortly after 12 o'clock had struck ….
"The scratching of an insect made my heart stand still; my sight and hearing were painfully acute. Presently a familiar sickly sensation gradually crept over me, the throbbing of my heart increased and the most desperate terror laid hold of me. The dog uttered a low, savage snarl. The house was no longer empty. Something was on the landing overhead, preparing, so my senses told me, to descend.

I could not stir, nor close my eyes—I could only sit there staring at the staircase, praying that the horror would soon emerge and that my ordeal would quickly be over. Down, down, down it came, until at last I could see it — a white, evil face surmounted by a mass of black hair. The eyes were the most alarming feature — large, dark, very lurid, very sinister—and they were fixed on mine with a mocking leer."
The ghost turned out to be Bertha Rungate, who led Elliott to an old well where she had disposed of the body of Philip Rungate who she murdered after finding he was planning to elope with her governess. No-one knows where Veremont House was, or if it is still standing on Shooters Hill today  under another name.
Other supernatural manifestations in Shooters Hill include the white lady of Shooters Hill reputed to haunt the junction of Shooters Hill Road and Well Hall Road on 24th July each year, and the  ghostly footsteps which are said to haunt the Bull pub.
The Royal Herbert Hospital has hosted a number of ghostly occurrences, including spectral victorian nurses, a tolling death bell foreshadowing deaths on Ward  G4 and more ghostly footsteps…
"At about 3 am, as I was quietly reassuring a young soldier recovering from a collapsed lung, we both heard soft footsteps approaching the ward. I promised him a cup of tea once the visit from the expected Captain was over, and left his bedside to greet her.
As I reached the ward door, I saw that it was closed, but the measured tread seemed to pass me and continue into the ward itself. I`d love to claim that I bravely followed, but I stood rooted with terror to the spot. The spell was broken by the young soldier's strangled yelp, and I ran to his bedside (disobeying, of course, every rule about running, except in Fire or Haemorrhage!) The unfortunate young man, gasping for breath told me that "The Sister" had come to his bed, but was "now vanishing"…His distress was acute, and I feared for his condition. The noise awoke the patient in the next bed, who put his light on, and my young soldier was able to draw long, if rasping breaths."
Even after the hospital was converted into flats and became the Royal Herbert Pavilions there has been a sighting of a ghostly nurse.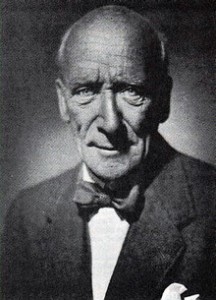 No post about the supernatural in Shooters Hill would be complete without mentioning Algernon Blackwood. He was born at Wood Lodge, a large house which used to be sited at the top of Oxleas Meadows, near where the Oxleas café is currently located.
Blackwood wrote over forty books including atmospheric gothic fiction, tales of the supernatural and stories about a psychic detective, Dr John Silence.  H.P. Lovecraft wrote about Blackwood "He is the one absolute and unquestioned master of weird atmosphere" and Everett F. Bleiler called him "the foremost British supernaturalist of the twentieth century."
He led an erratic and interesting life, and at different times was a farmer, a journalist and a British spy in the First World War. He also met the mystics Ouspensky and Gurdjieff.
He later appeared on Britain's first television show, Picture Page, in 1936, and in the late 1940's broadcast a regular Saturday Night Story programme on television in which he read a series of his supernatural tales, making  him a household name. He was awarde a CBE in 1949.
So look out for spectral nurses, supernatural footsteps and ghostly white evil faces with large, dark, very lurid eyes if you are out trick-or-treating this Halloween.
And hope that  you don't hear the ghostly tolling of the death bell!