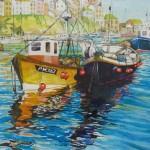 The Ripley Arts Centre in Bromley will host a joint exhibition by two local artists, Colin Fifield and Ray Marshall, starting on the evening of 31st January and running to 24th February. Ripley Arts Centre is located at 24 Sundridge Avenue, Bromley, Kent, BR1 2PX – not far from Bromley town centre.
The Bromley Arts Council description of the event  includes the following profiles of the two artists:
Colin Fifield – profile
Colin lives on Shooters Hill, South East London. He first studied art and design at Camberwell School of Art from 1958 to 1962 specialising in Painting, Lithography and Illustration. He was awarded the National Diploma in Design (NDD) in 1962. From 1962 to 1964 he completed a two year post graduate course in Painting and Engraving at the Slade School of Fine Art, University of London where was awarded the Slade Diploma in 1964. His art has always been very eclectic. His interests range from landscape paintings in oils, watercolours and acrylics. His main inspiration comes from the landscapes of the South East Coast especially the areas of Dungeness, Deal and Hastings.

Ray Marshall – profile
Ray Marshall was born in Lambeth and moved to Plumstead, South East London, in 1975, where he has remained a local resident since. Having undertaken some formal study at Morley College, tutored by Lawrence Toynbee among others, Ray is mostly self-taught. His work covers an eclectic mix of subjects, taking inspiration from nature, architecture, historical references, dance and music and the general observation of the world around us.

Ray's interests provide a wealth of stimulation as he enjoys walking in the countryside and urban settings, cross country running, motorcycling and bird watching, as a member of the RSPB. These activities afford the opportunity for collecting photos, sketches and notes which provide reference material for his work in watercolour, oils, pen and ink and pencil drawings.

This wide ranging body of work has been exhibited in a number of local shows and produced commissioned works for patrons both locally as well as in America, Canada and Australia.
Colin Fifield is also a potter, specialising in stoneware especially domestic pottery such as mugs and jugs. He  is one of the Eltham Art Group who have an exhibition at the Blackheath Halls in March which will include oil paintings, photography and contemporary images. Other members of the Eltham Art Group are Claire Rowlands, Peter Clark, Graham Redmayne and Graham Davies.
Ray Marshall painted the Shooters Hill montage that can be seen in the Bull and in the Oxlea Wood Café. This depicts many Shooters Hill landmarks, for example the Water Tower, the Bull, Severndroog Castle, Ypres milestone …. even one of the wrought-iron encased red balls that sit on top of the pillars outside Herbert Pavilions. Ray is a member of the Plumstead Painters and Potters group which regularly exhibits their paintings, watercolours and pottery.
There are many other artists associated with Shooters Hill – William Robert Earl, Colin Ashford, Jon Sullivan to name just a few. I hope  they will feature in future posts.