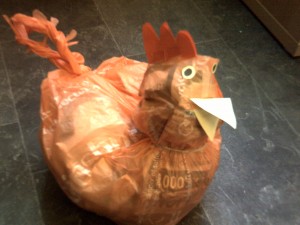 Thanks to Woodlands farm for sending in news of their forthcoming half term events.
As spring approaches the birds are starting to look for somewhere to nest. Although there is normally plenty of food available during this time, there are increasingly less natural nesting areas. This is why it is so important to put up nest boxes.

During half-term we are running a 'Bird Box Day' where you can come and make a special box to put up in your own garden and support the birds as they set up home during nesting season. We will be building open fronted bird boxes, which are a favourite for robins and wrens, and can also be used by pied wagtails and spotted flycatchers. To build your very own nest box, come along to Woodlands Farm on 14th February between 10am-2pm to build your box. It costs just £3 and all materials are provided.

On Wednesday 15th February from 10am-3pm we are running the 'Carrier Bag Creatures' activity (see picture). Pop in any time to create your creature using just carrier bags and newspaper. You can make anything from a chicken, to an ant or whatever creature you can imagine. This event is free, so just pop by and see what you can create.

On Thursday 176th February we are holding our regular Toddler club  event, which runs from 10am to midday and the cost if £2 for adults.

On Friday 17th February between 10am and 2pm we are getting 'Wild in the Woods'. This will be a chance to come along and explore our woodland at The Woodlands Farm. With a variety of activities including scavenger hunts, woodland art and shelter building there will be plenty of things to 'get wild' at! This activity is free so come along anytime between 10am-2pm and join in the woodland fun! We will be out whatever the weather so warm, waterproof clothing is recommended.