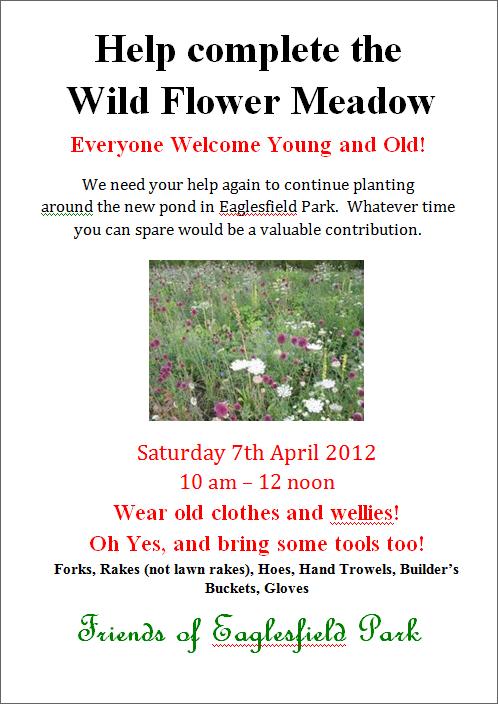 Volunteers were out in force in Shooters Hill last Sunday: one group continuing work on the wild flower garden at Eaglesfield Park Lilly Pond and another running the Tarts & Crafts fête at Shrewsbury House.
Madeleine from the Friends of Eaglesfield Park sent me the poster above with an update:
Friends of Eaglesfield Park and members of the local community met again on Sunday 1st April to continue work  on the creation of the wild flower meadow surrounding the newly restored pond.   The weather was wonderful, although the dry spell has had an effect on the soil!   Unfortunately fewer "gardeners" were available this time, but we did seem to have more visitors to the pond area – all expressing their enthusiasm and support for the return of the "lost and forgotten" pond.   The wildflower meadow area will take a while to establish, but already people have commented that the reflections in the water of the pond add interest and a feeling of tranquility.  A closer look in the pond revealed water boatman/water skaters and no doubt there were probably other "bugs" we didn't spot.   We will continue to monitor the aquatic wild life and the wild flower meadow.  There is no doubt that it is very satisfying to see the transformation of the pond and surrounding area.   We certainly would not like to see the return of the old sad, overgrown and neglected pond!        

We still have much to do.  We will be meeting again on

Saturday 7th April from 10.00 am to 12.00 noon

to carry on with the "digging and planting".    If you would like to join us, we would be very pleased to see you.  Whatever time you can spare will be a valuable contribution to completing the wild flower meadow.

Don't forget to wear old clothes.  Can you please bring your own tools (especially, spade, fork, hand trowel, and if possible a builder's bucket).
Work on the lilly pond garden is progressing well and there are even some lillies starting to grow in the pond.  Amongst the visitors expressing enthusiasm and support was local councillor Barry Taylor.
Meanwhile, just down the road in Shrewsbury House the Mayor of the Royal Borough of Greenwich, Jim Gillman, was opening the latest Tarts & Crafts fête. He also presented Shrewsbury House with a Commemorative Certificate representing the Royal Warrant recently issued to the Royal Borough.
Tarts & Crafts was very well attended again, and packed with stalls arranged throughout the building. The stalls included a variety of different crafts,  aperture photography society and an art stall by local artists Ray Marshall & Colin Fifield  manned by Ray himself and including copies of his collages of Shooters Hill, Eltham and Plumstead. Not to mention many very creative cup-cakes.
The fête raised much-needed funds for Shrewsbury House which has been run by volunteers for the last twenty years, and provides a home for a wide range of community societies and activities. There are around 40 in their list, including arts, dance groups, language classes, martial arts, millinery, music, photography and yoga. They are increasing their fund-raising activities following a reduction in income from the council's use of their facilities, and are promoting the house as a venue for weddings, parties and celebratory events as well as use of their facilities for outside clubs and societies. They even have a sound-proof annex for band practice. Shrewsbury House provides an essential service to Shooters Hill residents,  and I wish them luck in their fund-raising activities.
A busy Sunday on Shooters Hill.