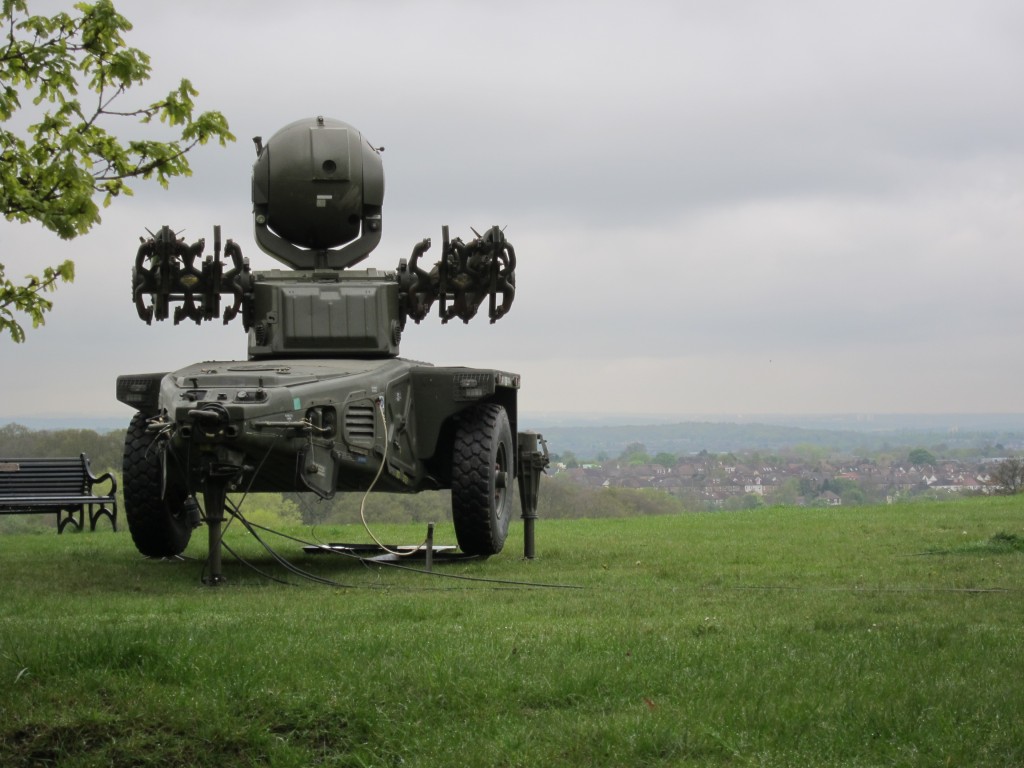 A battery of Rapier surface-to-air missiles together with other components of a Ground Based Air Defence (GBAD) System was set up on Oxleas Meadows, just below the Oxlea Wood  Cafe this morning as part of the MoD's exercise Olympic Guardian. The exercise to test security preparations for the Olympic and Paralympic Games also includes deployment of a similar GBAD System on Blackheath, the berthing of the Royal Navy's largest ship, HMS Ocean, at Greenwich and activity by helicopters, jets and other military hardware in and over the royal borough.
The Blackheath Bugle blog has a good set of links to news items explaining how the GBAD systems on Blackheath would be used. The campaign against the missiles – No Missiles in Oxleas Wood – have a Facebook page with details of their campaign. Their letter from the MoD about the deployment says that the MoD have taken advice from Natural England over any measures they would need to take to protect the Oxleas Wood Site of Special Scientific Interest. It doesn't specifically mention the Corky Fruited Water Dropwort, but I hope that will  be covered as I'm looking forward to some dropwort spotting later in the year.
The recently launched Oxleas Wood web site says that the deployment is part of an MoD Community Engagement Day and that local residents can express their concerns between 4.00 and 6.00pm today.
The Olympic Guardian exercise runs from 2nd to 10th May, so it's possible the GBAD system will still be on Oxleas Meadows when the Bluebell Walk convenes on Sunday. In the meantime here's some more photographs.
Update: I've just wandered over to Oxleas Wood  again and the missile battery will be open for members of the public to have a look round and ask any questions until 7.00pm this evening. The armed forces personnel were very friendly and open to answering questions, describing the different parts of the battery, explaining their manning routine if the missiles are deployed  and even letting me manouver the missiles using their fall-back manual aiming system. They mentioned that the decision on whether the GBAD system would be deployed during the Olympics was still open. The battery will be in place until Monday, so there will be an additional attraction for people on the Bluebell Walk, as well as the bluebells and Woodlands Farm.