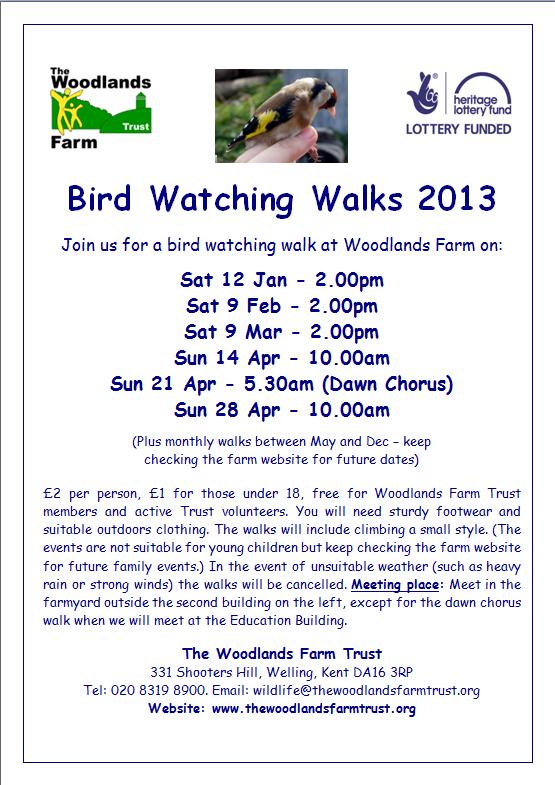 A series of monthly bird watching walks at Woodlands Farm starts tomorrow (Saturday) at 2.00pm. An e-mail from Lorraine Parish, the farm's Wildlife Officer, gave the details:
Join us for a bird watching walk at Woodlands Farm on:

Sat 12 Jan – 2.00pm
Sat 9 Feb – 2.00pm
Sat 9 Mar – 2.00pm
Sun 14 Apr – 10.00am
Sun 21 Apr – 5.30am (Dawn Chorus)
Sun 28 Apr – 10.00am

(Plus monthly walks between May and Dec – keep
checking the farm website for future dates)

£2 per person, £1 for those under 18, free for Woodlands Farm Trust members and active Trust volunteers. You will need sturdy footwear and suitable outdoors clothing. The walks will include climbing a small style. (The events are not suitable for young children but keep checking the farm website for future family events.) In the event of unsuitable weather (such as heavy rain or strong winds) the walks will be cancelled. Meeting place: Meet in the farmyard outside the second building on the left, except for the dawn chorus walk when we will meet at the Education Building.
The farm is home to a wide variety of birds. Their bird watching reports have mentioned sightings at different times of the year of Swallows, House Martins, Whitethroats, Blackcap, Chaffinch, Jackdaws, male Redstart, a Redwing, Red Kite, Chiffchaffs, Whitethroat, Lesser Whitethroat, Spotted Flycatcher, Garden Warbler, Willow Warbler, Kestrel, Sparrowhawk, Hobby, Common Buzzard, a Peregrine Falcon, a Greater Black Backed Gull, 60 Black Headed Gulls, Wood Pigeons, Stock Dove, a female Whinchat and a Barn Owl. Plus there are the usual garden birds around the feeders near the hide such as different types of Tit and Robins plus quite a few Ring Necked Parakeets.
It promises to be an interesting series of walks.