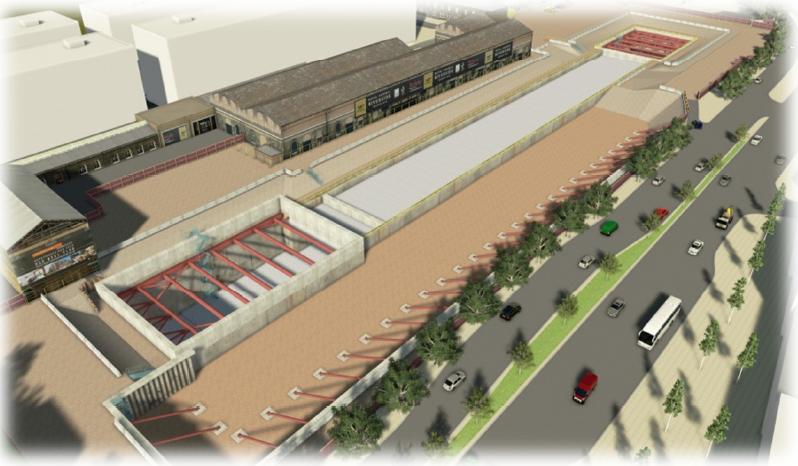 Berkeley Homes are holding a Crossrail station box completion event on the 27th February to celebrate the completion of the 2-year long construction project 4 months ahead of schedule, and to raise money for Demelza House Children's Hospice and the Berkeley Foundation.
The event offers the opportunity to take a tour of the station box or to participate in a fun run 20 metres below ground level.  Tours will last 30 minutes and will start out every half hour between 3.00pm and 5.00pm with a maximum of 20 people per tour. The fun run starts at 6.00pm and, in the words of the Berkeley information leaflet:
With the emphasis on FUN! This will not be a competitive event, there will not be any timekeeping and there will be no winner. In fact the only prizes will be given for the best fancy dress.
The fun run will take place inside the station box, approximately 20 metres below ground level! The size and nature of the space makes this a unique and not to be missed event.
One lap of the station box is approximately 500 metres. Runners are free to run, jog or walk as far as they want within the time limit of (30 to 40 minutes). How far will you get?
The fun run will commence from 6pm. All participants will need to arrive to register and access the station box by 5.30pm.
Fancy Dress – Yes, fancy dress costumes are encouraged. Exciting prizes will be given to those judged to be wearing the best costumes. However, sensible running footwear is essential.
Because of the location of the event it is restricted to people over 14 years old,  taller than 1.2m and who are happy traversing a seven storey scaffolding staircase. Anyone under 16 years old must be accompanied by an adult.
Registration is necessary to participate in the event. This can be done either by by phone on 020 8331 7275 or e-mail to woolwichstationbox@berkeleygroup.co.uk. A minimum donation to Demelza House Children's Hospice of £5.00 is requested for the tour and £10.00 for the fun run. Berkeley will match all donations with a donation to the Berkeley Foundation.
Unfortunately the Herrenknecht tunnel boring machines, Sophia and Mary, won't have arrived by the 27th – they are on their way from Plumstead.
Completion of the station box is a major milestone for Crossrail, but the funding for the rest of the station is still to be agreed between Berkeley Homes, Greenwich Council and the Department for Transport. Once complete Crossrail will run 12 trains per hour into central London and on to Heathrow. It is expected to lead to an increase in house prices in Woolwich and other areas along the route. Berkeley Homes plan to build 2517 homes in the Royal Arsenal site.