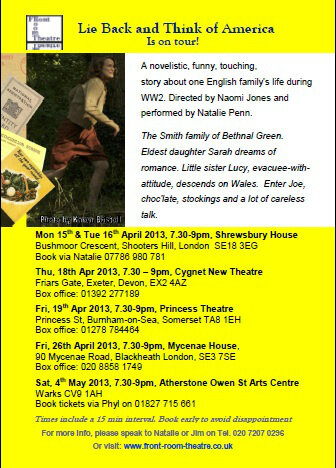 Theatre comes to Shrewsbury House next month when Shooters Hill based Front Room Theatre present their play Lie Back and Think of America. The one-woman, multi-role drama performed by local actor Natalie Penn and directed by Naomi Jones starts a UK tour at Shrewsbury House on 15th and 16th April. It will also play at Mycenae House in Blackheath on 26th April.
Lie Back and Think of America has been performed at various venues, including the Edinburgh Fringe. The Edinburgh Fringe listing described the play as:
1940's London. Sarah wishes dad could meet GI Joseph. Evacuee-with-attitude, little sister Lucy descends on Wales. Can Sarah find the courage to tell them the truth? Engaging multi-role one-woman show. 'Compelling … well written' (Soho Theatre). 'Amazing … kept us all enthralled throughout … a show good for both young and old', 'We both thoroughly enjoyed it and thought that Natalie was brilliant' (audience comments).
Tickets for the Shrewsbury House performances are available from Natalie on 07786 980 781 and cost £8.00 (concessions £6.50).
Natalie has previously worked with Shared Experience, the BBC, Channel 4, Nottingham Playhouse, Watford Palace Theatre and the Guildford Shakespeare Company.
She was also in the video for Deptford band Athlete's Black Swan Song which was released to raise money for the Royal British Legion's Poppy Day Appeal. The song, described as "powerful and moving" is about the death of the grandfather of Athlete's lead singer and guitarist,  Joel Pott. The video is certainly powerfuul and moving: I've included it below as a taster for what you might experience on April 15th and 16th.