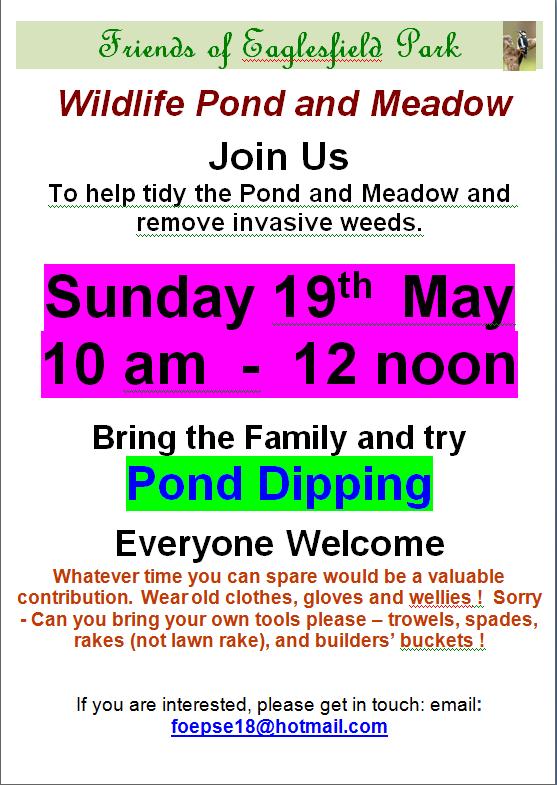 Madeleine from the Friends of Eaglesfield Park wrote with the latest news about the pond, and about a Pond Dipping event this Sunday, from 10am to 12.00 Noon. This will be combined with the first weeding and tidying session of 2013 for the wild flower garden around the pond.
Madeleine wrote:
Finally Spring (and the sunshine)  have arrived and we can continue the development and tidy up of the pond and meadow.   The pond life seems to be flourishing, including newts, frogs, water boatman, water skaters, dragonfly with plenty of other interesting creatures we have yet to identify!  The meadow has "greened up" well, but we need to reduce the  invasive "weeds" and grass so that the wildflower seeds planted last year have a better chance of survival.  We also have more seeds to sow and will be adding further plants.  By now it is "old" news that there are up to a dozen ducks that regularly visit the pond. I also understand that bats have  been seen hunting around the pond.    We would like to thank everyone for their support and hard work in transforming this  once forgotten part of Eaglesfield Park into a beautiful focal point for wildlife and the local community.

We are meeting on Sunday 19th May between 10.00 am and 12.00 noon to carry out litter picking, weeding and planting and would very much appreciate your help – whatever time you can spare would be a valuable contribution.  Sorry, but could you bring your own tools (spade, fork, trowel, builder's bucket) and don't forget to wear old clothes, wellies and gloves.  It won't be all hard work though, we intend to have a bit of fun!    We will be POND DIPPING as well.
So, why not bring the family to try POND DIPPING and help identify the various pond creatures.   We will supply pond dipping nets and information for identification.

We do hope you will pop round to see us.

Whilst writing, some news in brief:
– We are still working with Royal Greenwich and the Lottery Fund and hope to have new signage in and around the Park in the very near future.
– IT access is currently being updated and we will keep you informed.  Meanwhile, if you have queries or comments,  I am happy to help.
– We are in the early stages of planning park events.

On a personal level, I have lived on Shooters Hill all my life and have been a member of Friends of Eaglesfield Park (FOEP) since it was set up in 2006.   I remember the pond as a beauty spot that everyone visited but which over the years became overgrown, a dumping area and eventually a dried up scrub.  In fact many people did not realise the pond had ever existed!   I do hope you agree with me that the restored wildlife pond and meadow is a wonderful opportunity to study nature in a tranquil setting.   If you would like to know how you can help the FOEP, please get in touch.  We really could do with some extra help!
The pond is looking good at the moment.  I notice that a new tree has been planted where the Mulberry that fell over during the pond work used to be. I hope it's a replacement Mulberry!
My sequence of pond pictures continues to grow, showing the changing seasons and weather.