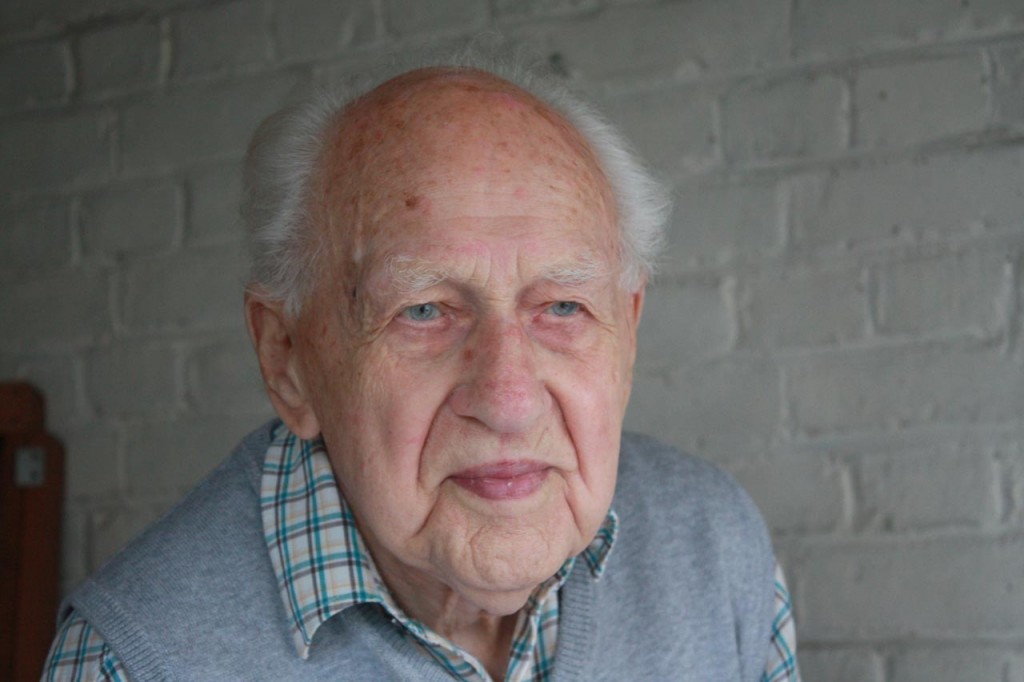 "I specialise in maritime pictures as well as aviation," said Colin Ashford," and have also painted steam trains and cars."  We were sitting in the front room of  the Shooters Hill house where Colin had lived for over 60 years, talking about the water colours he had exhibited in the recent "Aviation Paintings of the Year 2013" exhibition at the Mall Galleries. This annual exhibition is organised by the Guild of Aviation Artists of which Colin is a founder member and Vice President. The Guild was formed in 1971 with the aim of promoting aviation art and now has over 500 members and links with many fellow societies around the world.
Colin's paintings have been a regular part of the Guild's exhibitions – examples can be seen in their gallery web pages – and he has been awarded their Hawker Siddeley Trophy for the best water colour of the year on more than one occasion. The 2013 exhibition was very well attended on the day I visited, with many aviation enthusiasts viewing and discussing the 446 paintings by 139 artists.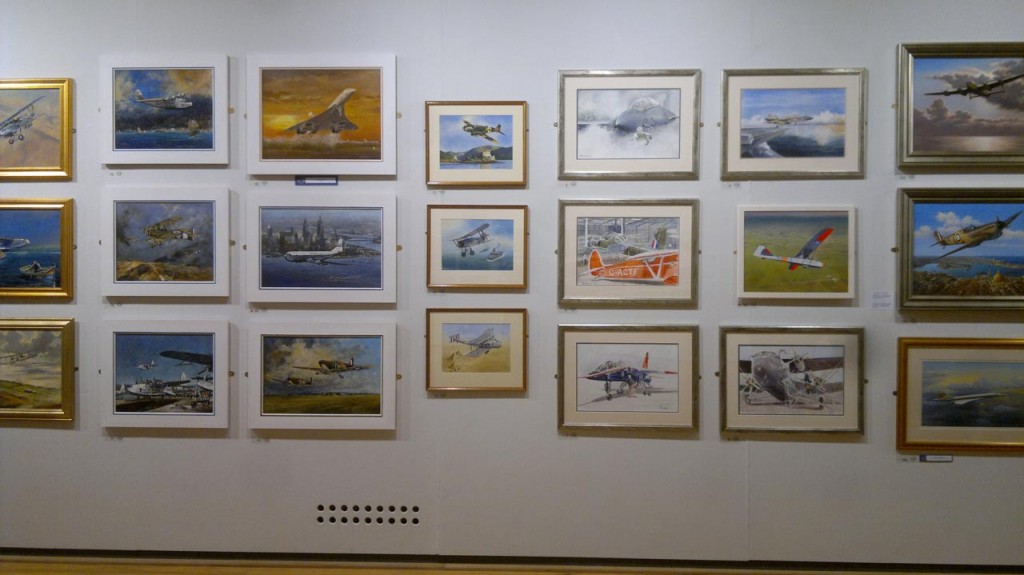 Born in 1919, Colin showed a natural talent for art from a young age, and his school teachers told his parents that there was nothing they could teach him about drawing. He was educated at Ackworth Quaker School and decided at the age of 12 that he wanted to be an artist. Coincidentally that was about the time he first flew, in an open top biplane which he later discovered was flown by a first world war pilot. He won a  Junior Exhibition to study art for four years at Wakefield College, followed by three years at the prestigious, Charles Rennie Mackintosh-designed  Glasgow School of Art. He believes this rigorous academic training has stood him in good stead throughout his subsequent career
Colin was already interested in maritime and aviation art, and while a student spent some time during holidays going out on herring fishing boats from Scarborough to learn more about the subject and make notes on shapes and colours.
His ambition to be an artists was interrupted by the Second World War. Colin's experiences with the First Battalion Scottish Light Infantry as part of the British Expeditionary Force just before the Dunkirk evacuation sound like a story from one of the boy's annuals he later illustrated. The battalion was assigned by General Gort to defend a gap in the line created by the Belgian's surrender. After a rapid overnight march through thundery storms they had to dig trenches into sodden clay – trenches that quickly filled with water – and then hold off a superior force including two Panzer divisions, with only light weapons. They held out for 24 hours, but Colin was wounded in the leg and taken by truck to the Belgian town, Poperinge. They could go no further because the bridge had been blown up to hinder the enemy's advance.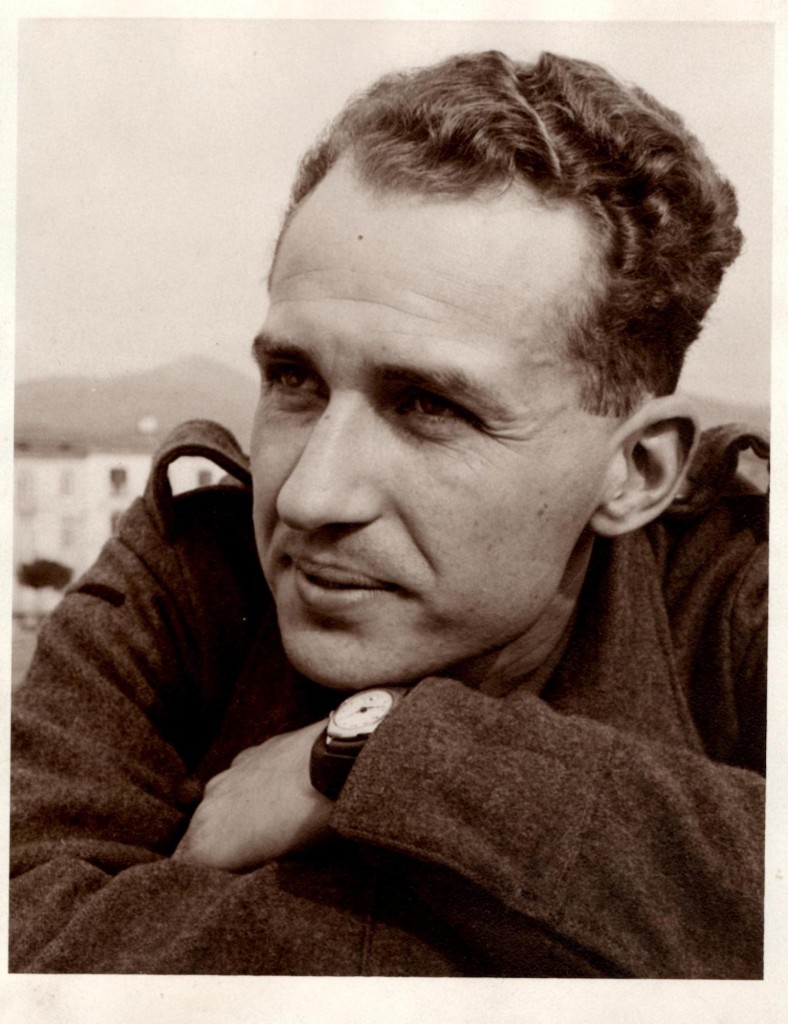 Colin managed to get a lift in a tracked bren-gun carrier, on the understanding that he was capable of firing it, and was taken back into battle despite his wound, though with an artillery unit this time. Again this only delayed the inevitable and he eventually had to wade shoulder deep across the river between the spars of the demolished bridge in order to get to the coast for evacuation back to the UK. After two days on the beach he was taken home.
Colin was in hospital for three months recovering from his wound and shell-shock. He was redeployed to the Royal Engineers and served in North Africa and Italy, using his artistic skills in camouflage development – a subject on which he later gave talks and appeared in a TV programme about. His deployment included some time at the Allied Middle-East HQ, based in the Royal Palace at Caserta, Italy, which was where the photo on the right was taken. Many years later the Royal Palace was used as a filming location for a number of films including two Star Wars episodes, Mission Impossible III and Angels and Demons.
After the war Colin moved south to London to pursue his artistic ambitions. He started with a full-time job at a publisher, "the mortgage had to be paid", but taking art commissions in his spare time. One of his early commissions, in 1959, came from Hunting Aerosurveys who wanted a picture of their predecessor company Aerofilms' first aerial photography sortie in an Airco DH.9 aircraft flying over Crystal Palace. This picture was reproduced in a book about building history, where it was seen by a firm of consulting engineers, Freeman, Fox and Partners. They contracted Colin to do artwork of their products, which included major bridge, road and building projects.  While we were chatting Colin showed me copies of some of his commercial engineering art work, such as a 3-D, cut-away picture of an interchange on the Hong Kong Metro. The detail and perspective allowed the engineers working on the project to see how their plans would work out and make adjustments if necessary. Another project was to depict an oil rig drilling platform.
Colin's career breakthrough came when Freeman, Fox and Partners decided to put him on a retainer, which freed him to pursue a full-time career as an artist.
Accuracy and meticulous attention to detail are key to Colin's art. He aims to make his paintings historically accurate, depicting events that actually happened, as well as being a true representation of his subject. This means a lot of research into the historical background as well as the appearance and structure of the objects he paints. He has built up a library of books, photographs and even plans of aircraft, ships and other subjects of his paintings, and sometimes uses pilots' combat reports. Manufacturers, many of them no longer in existence, were happy to send photographs and plans as part of their PR effort. Colin has also perfected his own water colour techniques over the years, experimenting in different uses of the medium to get the desired effect. He feels water colour is one of the most difficult media to master.
An example of Colin's work in water colour, with both an aviation and a maritime theme,  is shown below: an incident from the First World War when a Blackburn Kangaroo aircraft of No. 246 Squadron RAF flown by Lt E. F. Waring bombed a German submarine, SM UC-70, near Runswick Bay, Yorkshire on 28 August 1918.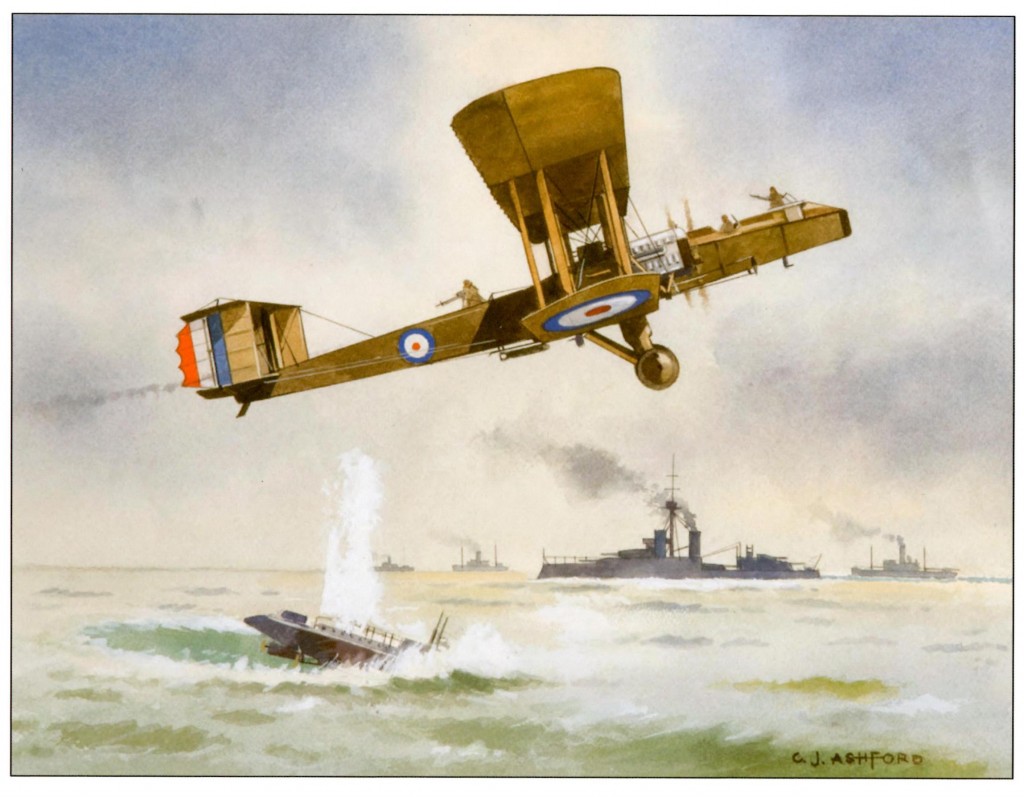 Although Colin prefers water colours he also sometimes paints in oils. One of his large oil paintings, a Lancaster bomber in a brooding, moody sky, is in the Yorkshire Air Museum at Elvington, another is in the Hendon RAF Museum. His paintings are in various museums around the world.  The National Maritime Museum has a water colour of the first catapult launch of an aircraft from a ship. Sir Peter Jackson, the film director, seems to be a big fan: there are 30 of Colin's paintings at the Omaka Aviation Heritage Centre in New Zealand which Peter inspired, chairs and  helped set up. Other interesting commissions have included a series of paintings of cruise liners for an executive from New York who wanted water colours of the liners he had sailed on, pictures of vintage sports cars for their owners and paintings of Thames tug boats commissioned by their skippers. He spent time travelling on the Thames boats to gather information for the paintings, and also captured details of Thames-side industries that have now been replaced by housing.
As well as paintings Colin has created a wide variety of different artwork over the years. This includes book jackets, magazine covers and postcards. He has contributed a number of covers for the magazine of Cross and Cockade, the First World War Aviation Historical Society and pictures for aviation books published by the RAF Benevolent Fund such as Wright to Fly.  A set of transport post cards utilises Colin's ability to paint and create lettering in the style of the 1930s. At auction and on art sale websites Colin's art sells for more than its original price.
At 94 years old Colin continues to paint in the studio adapted from the garage of his home on Shooters Hill.