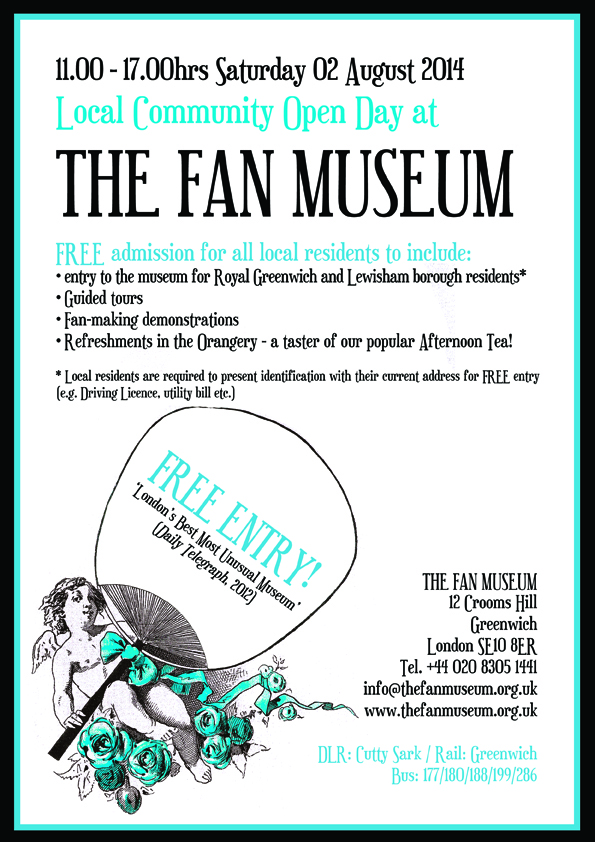 Emily from the Fan Museum wrote with details of their Open Day tomorrow, Saturday 2nd August 2014, a repeat of last year's successful event. They are aiming to encourage members of the local community who have not visited the museum before to do so. Entry is free (with valid ID such as a driving licence or utility bill) to all residents in the boroughs of Greenwich and Lewisham. This will include:
•    entry to the museum for all Royal Greenwich and Lewisham borough residents
•    Curator-led mini tours throughout the day
•    fan-making demonstrations throughout the day
•    children's activity trails
•    refreshments in the Orangery: a sample taster of their popular Afternoon Tea
The Museum's afternoon tea is one of "London's ten best afternoon teas" according to the Daily Telegraph, which recommends "a satisfyingly hefty hunk of chocolate brownie, moist and filled with white chocolate chunks". There's also a chance to see a collection of over 4000 fans, most of them antique. The museum's building is interesting too:  it is formed of two Grade II listed Georgian Town Houses and features a beautiful mural-decorated Orangery where the afternoon tea is served.
The museum's address is: 12 Crooms Hill, Greenwich, London SE10 8ER and the Open Day starts at 11.00am and is open until 5.00pm.