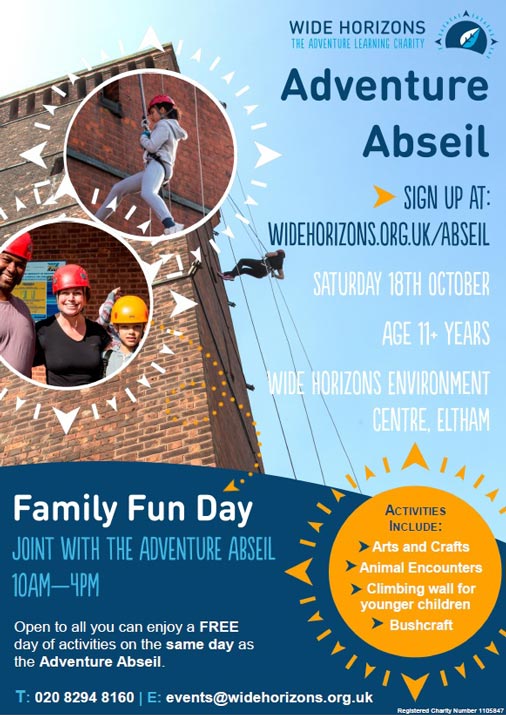 Aimee from Wide Horizons wrote with details of a Family Fun Day and Adventure Abseil to be held this Saturday, 18th October, to celebrate the charity's tenth birthday. She wrote:
Wide Horizons are turning ten this October and on Saturday 18th October, wish to celebrate this by inviting members of the local community to our beautiful site to enjoy a day of free activities, take part in an Adventure Abseil and listen to our range of guest speakers talk about the charity, including Mayor of Lewisham, Sir Steve Bullock.
Wide Horizons are celebrating ten long years of the charity providing local schools with Adventure Learning. The eight centres across England and Wales allow schools to experience life changing adventures, schools can take part in day and overnight visits at our centres.
Our aim for this Free Family Fun Day is to give members of the local community, primarily Greenwich and Lewisham, an insight to what Wide Horizons is about and how Adventure Learning is important for development of youth. The Environment Centre in Eltham will host this day, giving members of the public the chance to come and experience activities available to schools in the area. There will be a range of activities include; Arts & Crafts, Bushcraft, a climbing wall, the Adventure Abseil and much more throughout the day.
The sponsored Adventure Abseil will take place at the nearby University of Greenwich Avery Hill Campus. It's a 90ft drop, shown in Wide Horizons' photograph below, but you will be guided by the charity's expert instructors and I hear that the views over South-East London from the top are amazing. You can register for the abseil here: http://www.widehorizons.org.uk/event/abseil/abseil-registration-individuals/
The Family Fun Day is completely free and runs from 10.00am to 4.00pm at Wide Horizons 9 acre Eltham site at 77 Bexley Road London  SE9 2PE.