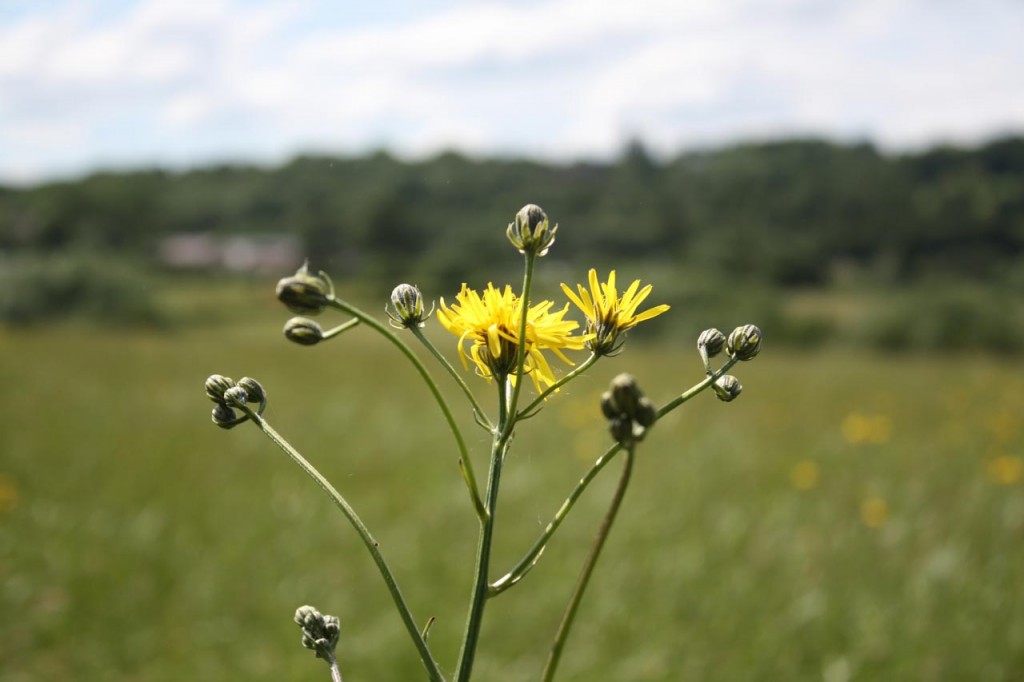 One of the highlights of 2014 for me was the opportunity to be involved in a number of citizen science surveys of the flora and fauna of the area. It was a real pleasure to be able to spend time with enthusiastic and sometimes very knowledgeable people identifying wild plants and animals in places such as Woodlands Farm's meadows and ponds or in an old ragstone mine in Westerham.
Many of the surveys were those arranged by Hannah Forshaw, the Education Officer at the farm, but there was also a lot more bat surveying, contributing data to the surveys organised by the Bat Conservation Trust and the London Bat Group.
The first surveys were in May: the Newt and Pond Life surveys at the farm. Armed with books, identification guides, nets and trays volunteers dipped the pond water and pored over what was dragged up – a good collection of larvae and nymphs and even the occasional tadpole and newt. Wellies were donned to get in the pond and examine the leaves of pond plants for newt eggs – the newts carefully wrap each egg in a leaf. Later, when it was dark the water was examined with torches to count the newts lying on the bottom.
All the data collected in the surveys is submitted to GIGL (Greenspace Information for Greater London), formerly the London Biological Recording Project, who "collate, manage and make available detailed information on London's wildlife, parks, nature reserves, gardens and other open spaces."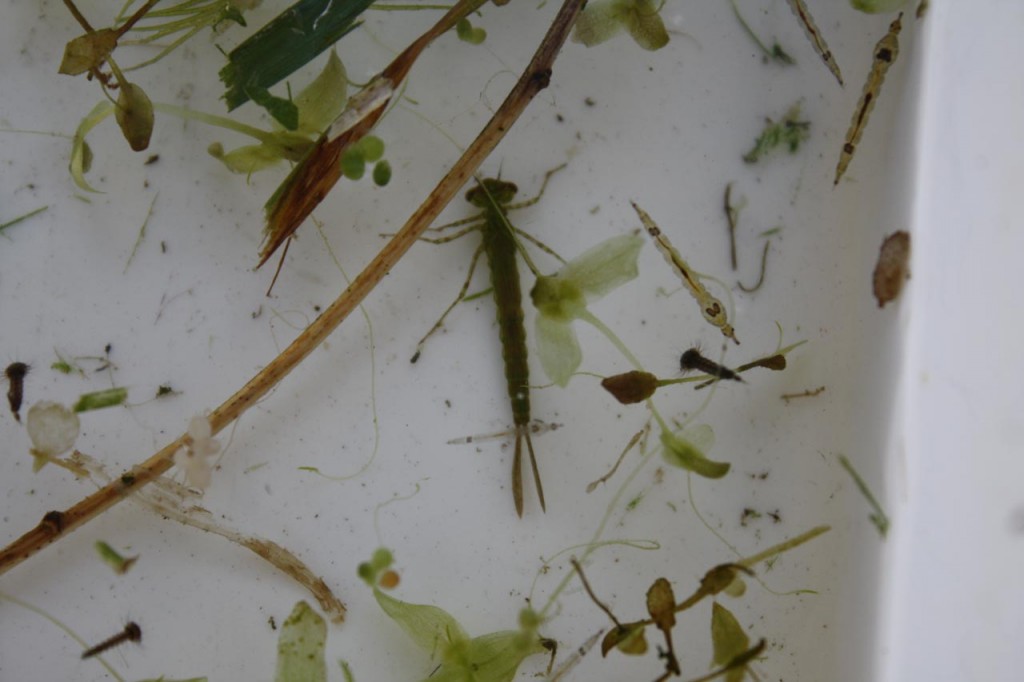 The surveys at the farm continued in June with the first of the Meadow Plants surveys. The farm is accredited to DEFRA's Higher Level Stewardship scheme, which amongst other things defines how they manage their meadows and hedgerows with the aim of supporting biodiversity. One consequence is that the meadows are rich in wild flowers and grasses, which is why a glorious sunny day in June saw groups of enthusiastic volunteers grouped around various books trying to identify the meadow plants. Umbellifers were particularly interesting: did we have a corky fruited water dropwort or a wild carrot or a fools parsley? Close examination and detailed discussion were necessary. The plants' names seemed rooted in another time: mouse ear, sheeps sorrel, goats beard, tansy, lesser trefoil, common vetch, grass vetchling ….
June also saw those volunteers measuring the girth and estimating the height and health of some of the farm's trees for the Opal Tree Health Survey, followed in July by shaking some of the farm's hedges to see what dropped out for the Opal Biodiversity Hedgerow Survey.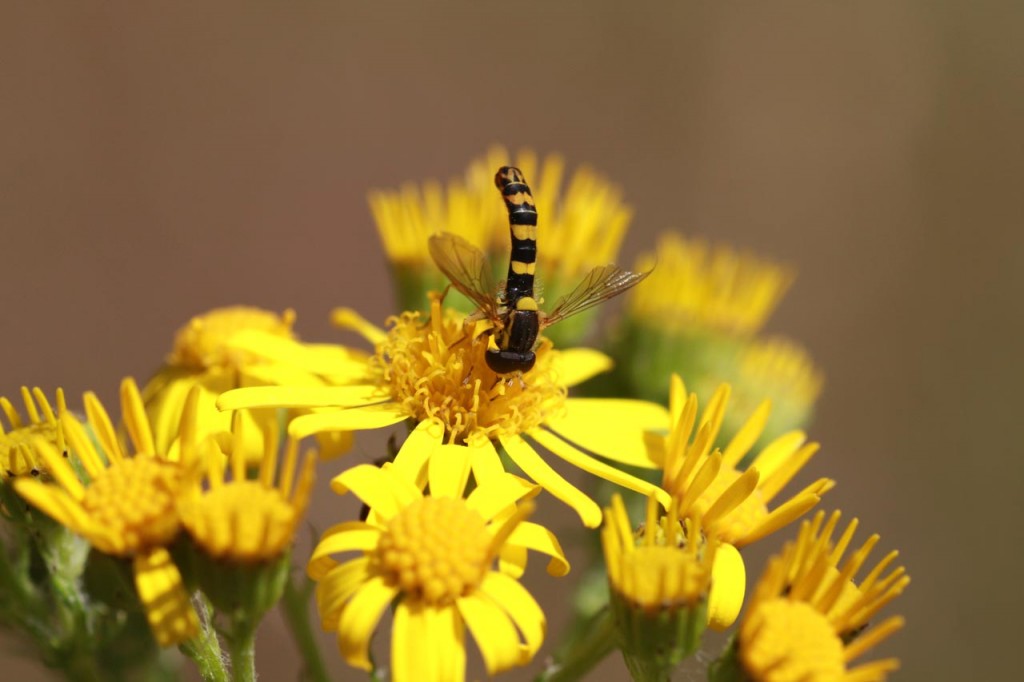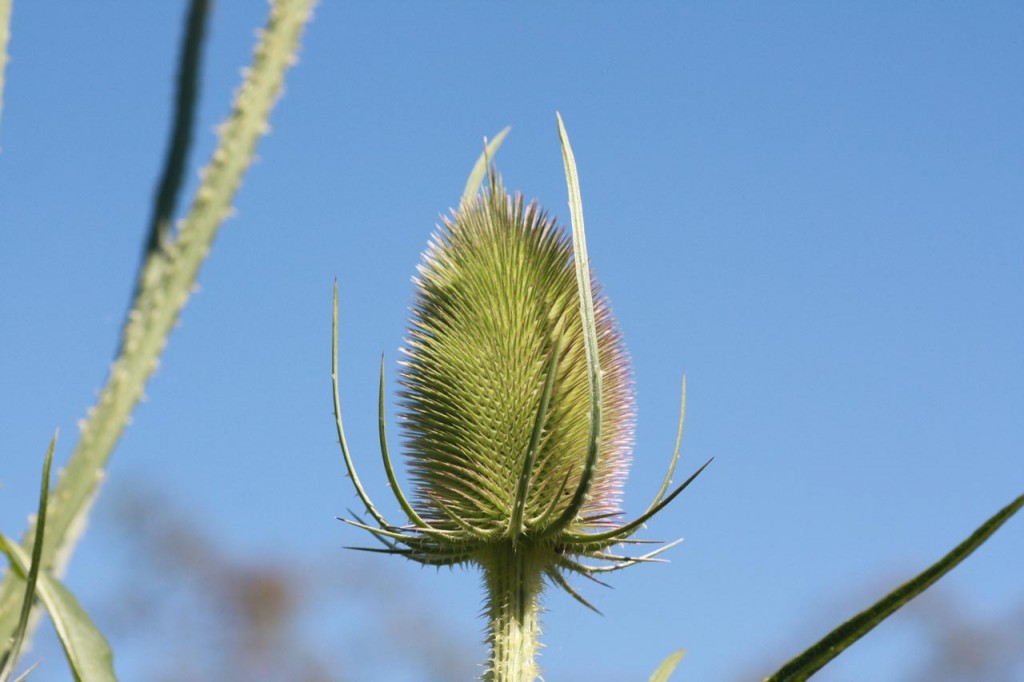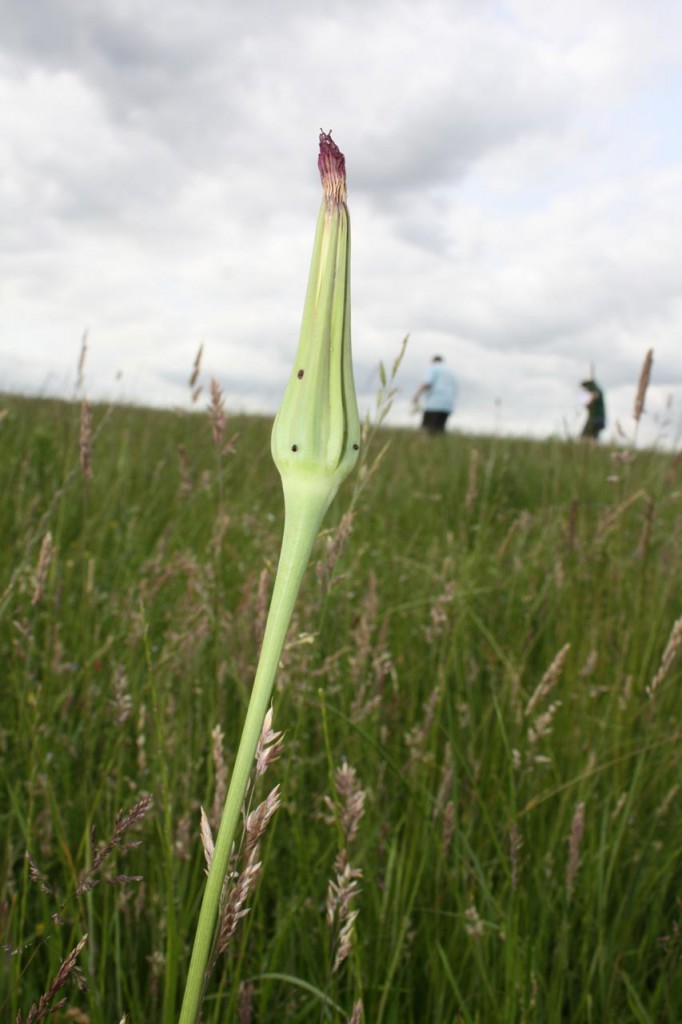 When it comes to citizen science surveys, the Bat Conservation Trust's National Bat Monitoring Programme (NBMP)  is one of the longest running, having started in  1996. The Field Survey, which monitors populations of noctule, serotine, common pipistrelle and soprano pipistrelle takes place in July. Volunteers are allocated one or more "random" 1km square to survey. They start by drawing a triangular transect on the map of the square, and then plot a route that follows the triangle as closely as possible with 12 equally spaced stopping points. On the evenings of the survey the volunteer walks the route using a heterodyne bat detector to listen for noctules and serotines on the walk between the stopping points and then stops for two minutes to survey for pipistrelles.
My square for the last four years has been centred on grid reference TQ4081 – an area of Canning Town to the north of Custom House DLR station. It's not an encouraging area for any wild life – mainly built up and crossed by the noisy, polluting A13. I only ever detect bats in one place – Canning Town Rec – and usually only get one pass on the detector during the two minutes monitoring. This year there was nothing at all at the start of July, but my lonely pipistrelle was back at the end of the month.
The Woodlands Farm field surveys were far more successful, detecting many more bats – both common and soprano pipistrelles and noctules. Plus there was the added bonus of coming across two hedgehogs this year.
The BCT run fairly regular courses for volunteers on how to use a bat detector to recognise different types of bat calls, and I went on a refresher during this year's survey season. While there I volunteered to help with the August Waterway Survey – looking for Daubenton's bats. I took on a 1km section of the River Cray starting at Hall Place. Daubenton's bats' calls sound a bit like marbles dropping onto a tiled floor on the heterodyne bat detector, but the bats must also be visually verified as their calls are similar to Natterer's bats. We had a couple of possible detections, but no visual confirmation so had to report unidentified Daubenton's/Natterer's.
There are however lots of pipistrelles at Hall Place, as I found out when helping to lead a bat walk around the gardens. It was quite magical walking just after dusk in the riverside gardens of an old Tudor house watching pipistrelles swoop between the trees, often just above head height. During September there were also well-attended bat walks in Shrewsbury Park and at Woodlands Farm, with a good number of bats seen and detected. Bats are becoming popular.
In December I had a rare opportunity, courtesy of the London Bat Group, to help with a hibernation survey at Westerham Mines. The sealed-off  former building stone mines, also known as Hosey Caves, are a Site of Special Scientific Interest and are managed as a bat reserve by the Kent Wildlife Trust. They have been  regularly surveyed by members of the Kent Bat Group for many years. It's a mucky job because some tunnels are only accessible by crawling through narrow gaps, and it's often necessary for bat surveyors to lie on their backs to examine crevices in the roofs and walls for hibernating bats. Five species of bat are known to hibernate in the caves. The survey team in December counted a total of 54 bats – mainly Daubenton's but also Natterer's and some that were either whiskered or Brandt's bats. And one Brown long-eared bat and some hibernating herald moths. I am in awe of the bat recognition skills of the experienced surveyors – the bats are often hidden in crevices and little is visible.
It is important when surveying hibernating bats that they are not disturbed, and that any temperature rise caused by the presence of people is minimised. If the bats wake they will use their scarce energy reserves and have no way of replenishing them because their insect food is not available. So the photo of a hibernating Daubenton's bat below was taken without flash by torchlight without getting too close to the bat.
How are bats doing? A composite measure of bat numbers based on data for 8 species shows an 18% increase from 1999 to 2007, but a very slight decrease since 2007. However this must be set against a 60% decline in numbers between 1977 and 1999 in England. Also bats' legal protection is threatened. A Conservative MP's private members bill, the Bat Habitats Regulation Bill, currently going through parliament aims to reduce the protection given to bats roosting in places of worship – a move that could prove disastrous for bat populations. The wording of the bill seems very short and vague to me:
"Notwithstanding the European Communities Act 1972, the provisions of the Habitats Regulations and the Wildlife and Countryside Act 1981 shall not apply to bats or bat roosts located inside a building used for public worship unless it has been established that the presence of such bats or bat roosts has no significant adverse impact upon the users of the building."
A "building used for public worship" is a very vague and potentially all-encompassing phrase, and how could one demonstrate that the presence of bats has "no significant adverse impact"? What does adverse mean in this phrase? While bats' presence in churches has caused some problems there are many bat friendly ways of tackling the issue which have been ignored by proponents of the bill. Needless to say the Bat Conservation Trust are campaigning against the bill: if you want to help there's a draft letter to send to your MP on the BCT web site.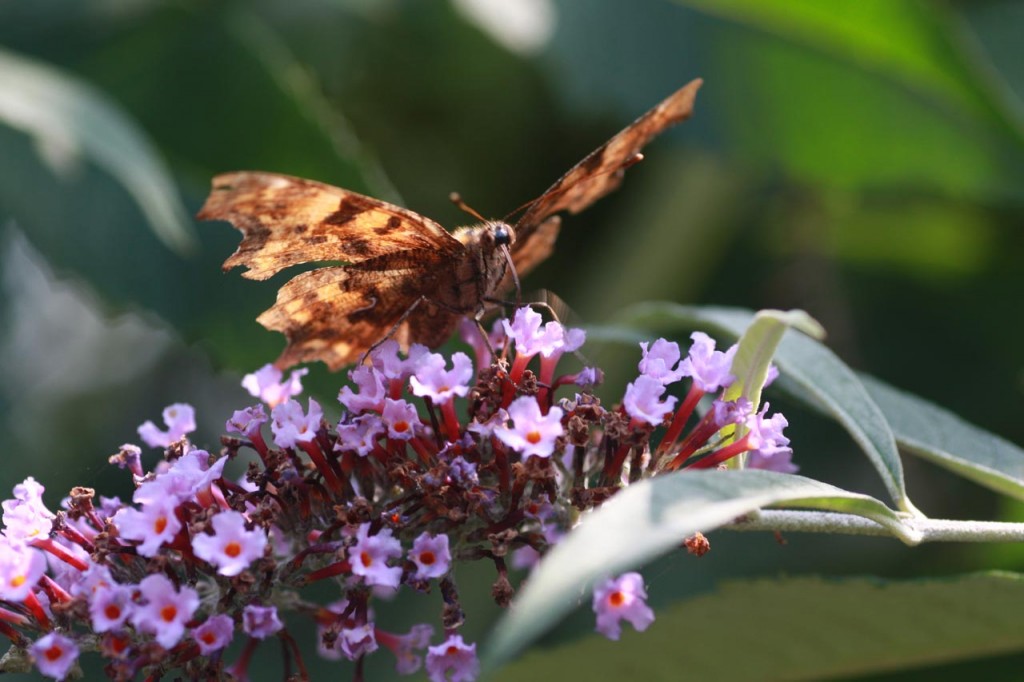 Back at Woodlands Farm, surveys continued in a lepidopterous vein with the Big Butterfly Count in June and a moth survey in September. The butterfly count was another sunny summer day in the farm's wild flower meadows. Amongst those spotted were lots of comma, meadow brown and gatekeeper butterflies: Hannah has put a full list on the farm's Wildlife and Conservation web page.
A moth trap, which is basically a bright light mounted above a container that was filled with egg boxes, was used to trap moths alive for the moth survey. Some of the moths captured were remarkably and unexpectedly beautiful, such as the burnished brass pictured below. They also had some amazing names: heart and dart, lunar underwing, setaceous hebrew character and pale oak beauty were some of the moths identified. After identification they had to be released carefully to make sure they didn't immediately become bird food.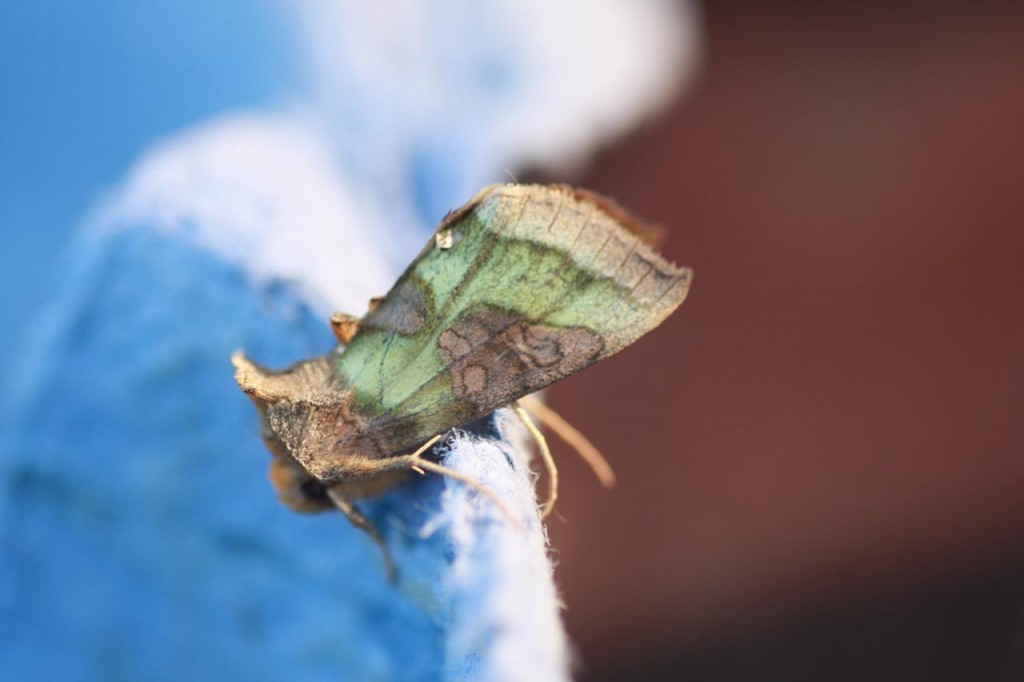 Mammals were the focus of surveys at the farm in the autumn. Hannah hired a mammal night camera from the Mammal Society, but the results were a little disappointing – a rat, a cat, foxes and squirrels were photographed – the best pictures have been put on the Mammal Society's web site. The hedgehog tunnel had some prints in it, but unfortunately not hedgehog. Then my first experience of checking the Longworth traps yielded only slugs – prompting the acquisition of a slug identification book for future trap checking. Slugs are surprisingly interesting!
Things picked up with later Longworth trap sessions. On each session 16 traps were baited with seeds and, most importantly, fly pupae from an angling shop which make a smelly attractive food. They were also stuffed with some straw to keep any tiny mammals warm, then placed at various places around the farm in the late afternoon. Early the next morning they were checked: it needed to be early to ensure that little creatures with high metabolic rates didn't run out of energy. Apart from slugs we found a lot of wood mice, which were sexed before release (a male is shown in the photograph below). A field vole and a possible bank vole were also trapped.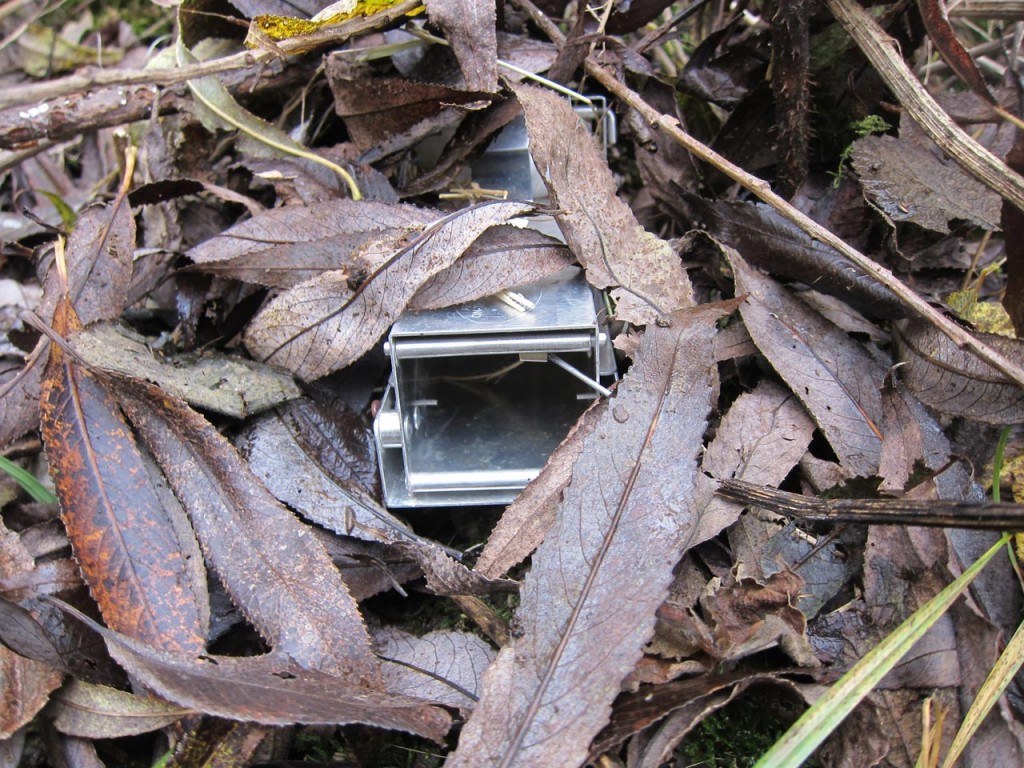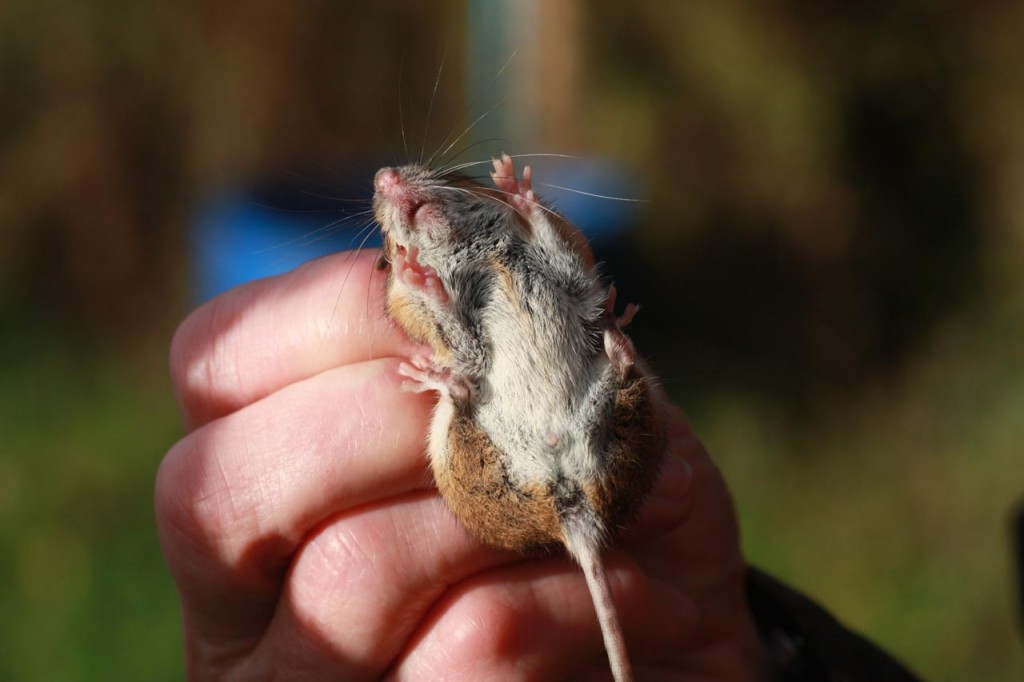 The conservation volunteers at the farm also helped with preparing the dipping pond for refurbishment – clearing nettles and plants from the edges, digging out water-plants and mud and carefully removing any pond life that could be saved. This year they are doing further work on the pond, clearing brambles in Clothworkers Wood to encourage bluebells and then the 2015 survey season starts with the Big Farmland Bird Count on Monday 9th and Tuesday 10th February.
If you want to help out with the farm's surveys of our local flora and fauna then contact Hannah Forshaw on education@thewoodlandsfarmtrust.org, and you can volunteer to help with bat surveys on the Bat Conservation Trust web site.