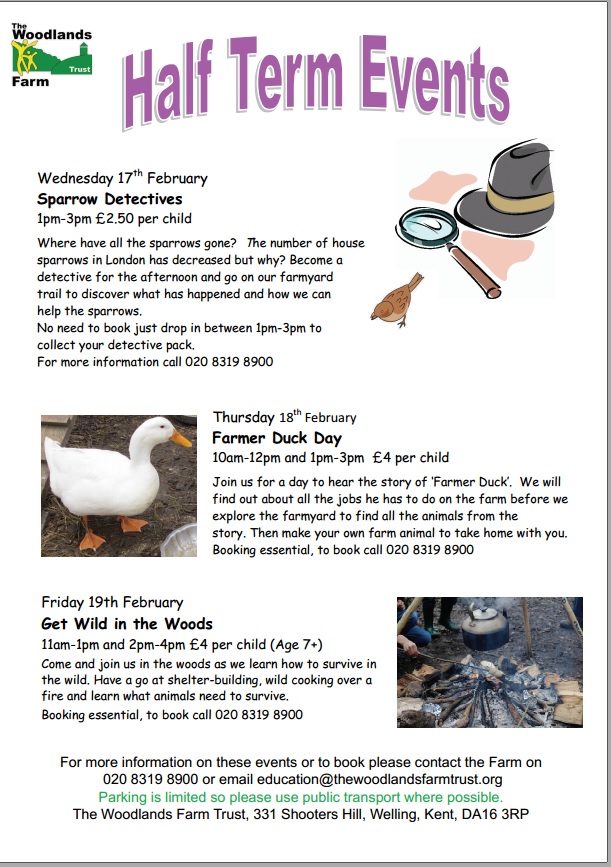 Woodlands Farm has activities for everyone during February: there is the Big Farmland bird count next Monday 8th, a St. Valentine's Walk on Sunday 14th and their children's activities during half term week from 17th to 19th.
Hannah, the farm's Education Officer sent details of their February half term events for children:
Wednesday 17th February    Sparrow Detectives    1pm-3pm
Where have all the sparrows gone?  The numbers of house sparrows in London have decreased but why? Become a detective for the afternoon and go on our farmyard trail to find out what has happened and how we can help the sparrows.  £2.50 per child.  No need to book just drop in between 1pm-3pm to collect your detective pack.  For more information call 020 8319 8900
Thursday 18th February        Farmer Duck Day    10am-12pm and 1pm-3pm
Join us for a day all about the story of 'Farmer Duck'.  We will start by reading the story of Farmer Duck and finding out about all the jobs he has to do on the farm, before going for an explore of the farmyard to visit all the animals from the story.  The make your own farm animal to take home with you.  £4 per child.  Booking is essential, to book call 020 8319 8900
Friday 19th February         Get Wild in the Woods        11am – 1pm and 2pm-4pm
Come and join us in the woods as we learn how to survive in the wild. Have a go at shelter building, wild cooking over a fire and learn what animals need to survive. £4 per child
Age 7+  Booking essential, to book call 020 8319 8900

For more information, see our website or contact Hannah Forshaw on education@thewoodlandsfarmtrust.org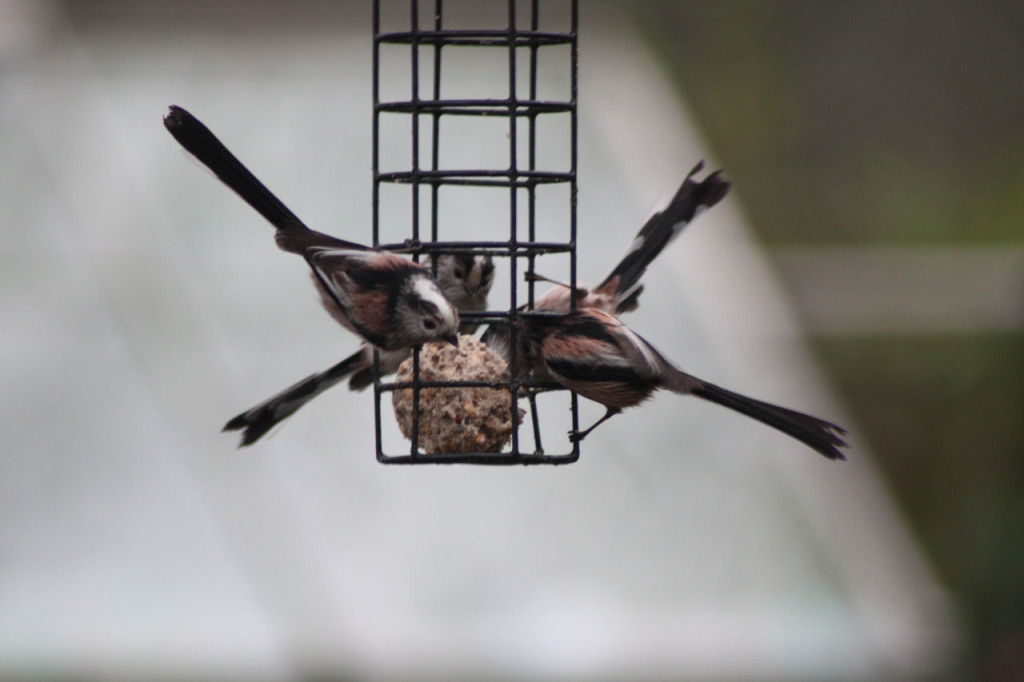 Hannah also sent a reminder of Monday's Big Farmland bird count:
Just a reminder that it is the Big Farmland bird count next Monday 8th Feb.  We will meet in the farmyard at 9.30am before heading out to the fields for the half hour count.  Please bring binoculars with you, but we do have some we can lend if you don't have any.
This is the farmers' equivalent of the RSPB's Big Garden Birdwatch, but is organised by the Game & Wildlife Conservation Trust. Last year the farm's volunteers did the count over two days and spotted 17 different bird species:
Monday 9th February
1 Black headed gull
2 Blackbirds
11 Carrion Crows
6 Common Gulls
5 Long tailed tits
18 Magpies
2 Ring Necked Parakeets
1 Green Woodpecker
5 Greenfinch
1 Sparrowhawk
1 Stock dove
38 Wood pigeon
2 Feral Pigeon
Tuesday 10th February
1 Blackbird
3 Blue tits
5 Carrion crows
8 Common Gull
1 Great tit
1 Lesser black backed gull
12 Magpies
3 Ring necked parakeet
1 Robin
3 Greenfinch
60 Wood pigeon
Then the next of the farm's series of free monthly guided walks is the St. Valentine's Walk on Sunday 14th February, starting at the green Education Building at 10am.
And if this all sounds far too energetic then just drop in and see the pregnant ewes in the barn waiting for the lambing season and Lambing Day on Sunday 10th April.