There are opportunities to search for bats in three of our local green spaces during the next month: bat walks are being held at Woodlands Farm on 23rd August, at Shrewsbury Park on 7th September and in Oxleas Woodlands on 21st September.
The Woodlands Farm bat walk is this Thursday starting at 8.00pm. Booking is required, call 020 8319 8900, and there is a charge of £6 for adults and £4 for children to help fund the farm's work. The farm participates in the Bat Conservation Trust's National Bat Monitoring Programme each year,  surveying for four species of bat at the start and end of July. The first survey this year was the best ever in terms of the number and variety of bats detected, with many contacts with larger bat species such as Noctules and Leisler's as well as the usual Common and Soprano Pipistrelles. There were fewer bats at the end of July survey, though still quite a few pipistrelles.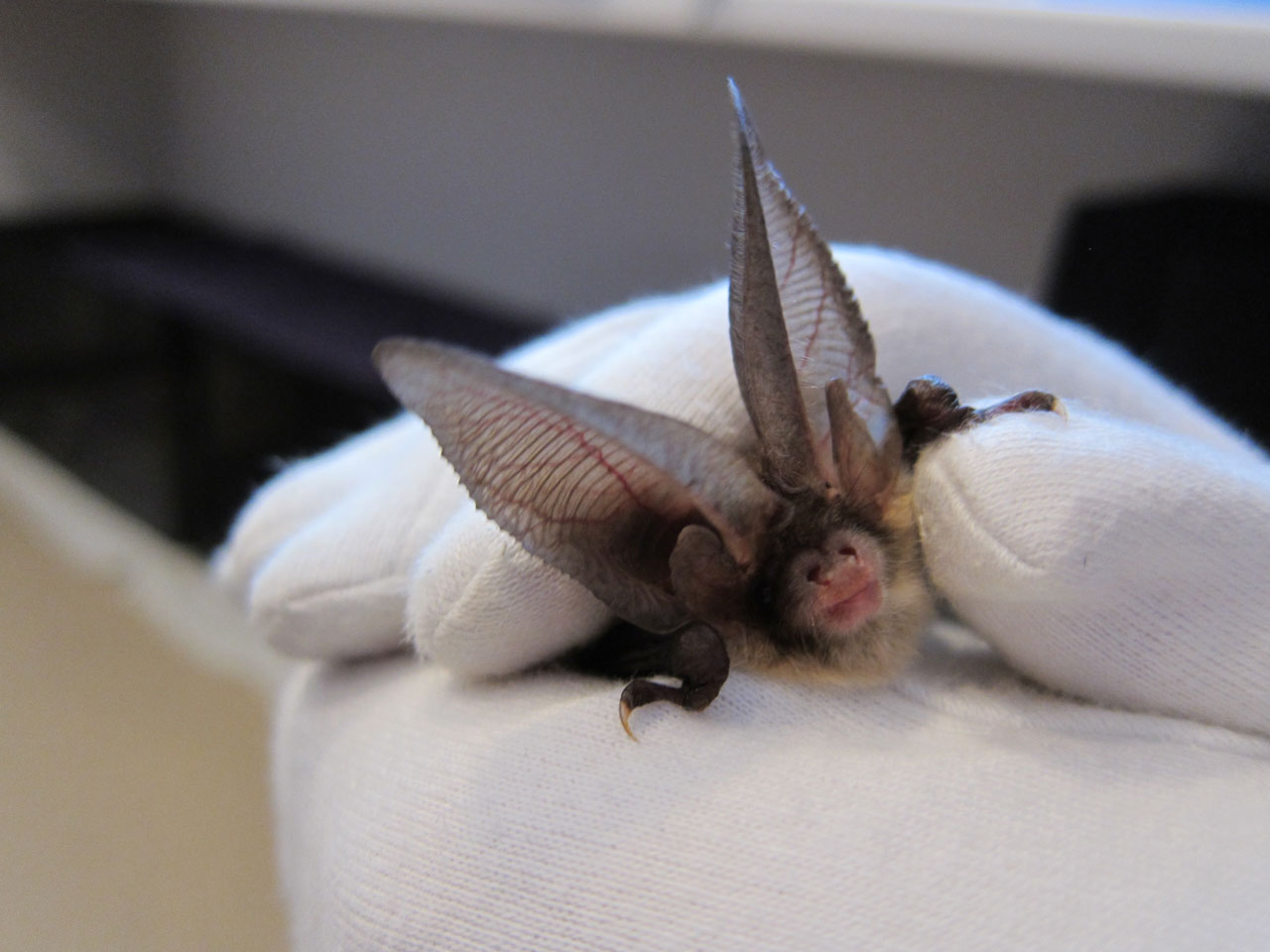 The Friends of Shrewsbury Park's bat walk starts at 7.30pm on Friday 7th September. It's free, but booking is necessary, as their web site says:
It's time to adjust your night vision for the now annual Bat Walk. After a short intro – next to the notice board by the Plum Lane car park – Les Clark will lead the walk through the woods and glades where the bats hang out. Bat detectors supplied!
This time we ask that you book your free place in advance using;
https://www.eventbrite.com/e/bat-walk-tickets-48480937790
A maximum of 50 people allows everyone to get the most out of the experience. If you don't have computer access please drop a note through the door at 189 Plum Lane with your name and phone number.
Wear suitable footwear (maybe bug spray too) and bring a small torch if you have one. The walk is approximately 1 1/2 hours. Dogs are welcome if kept on a lead.
If it's raining neither bats nor us will be coming out!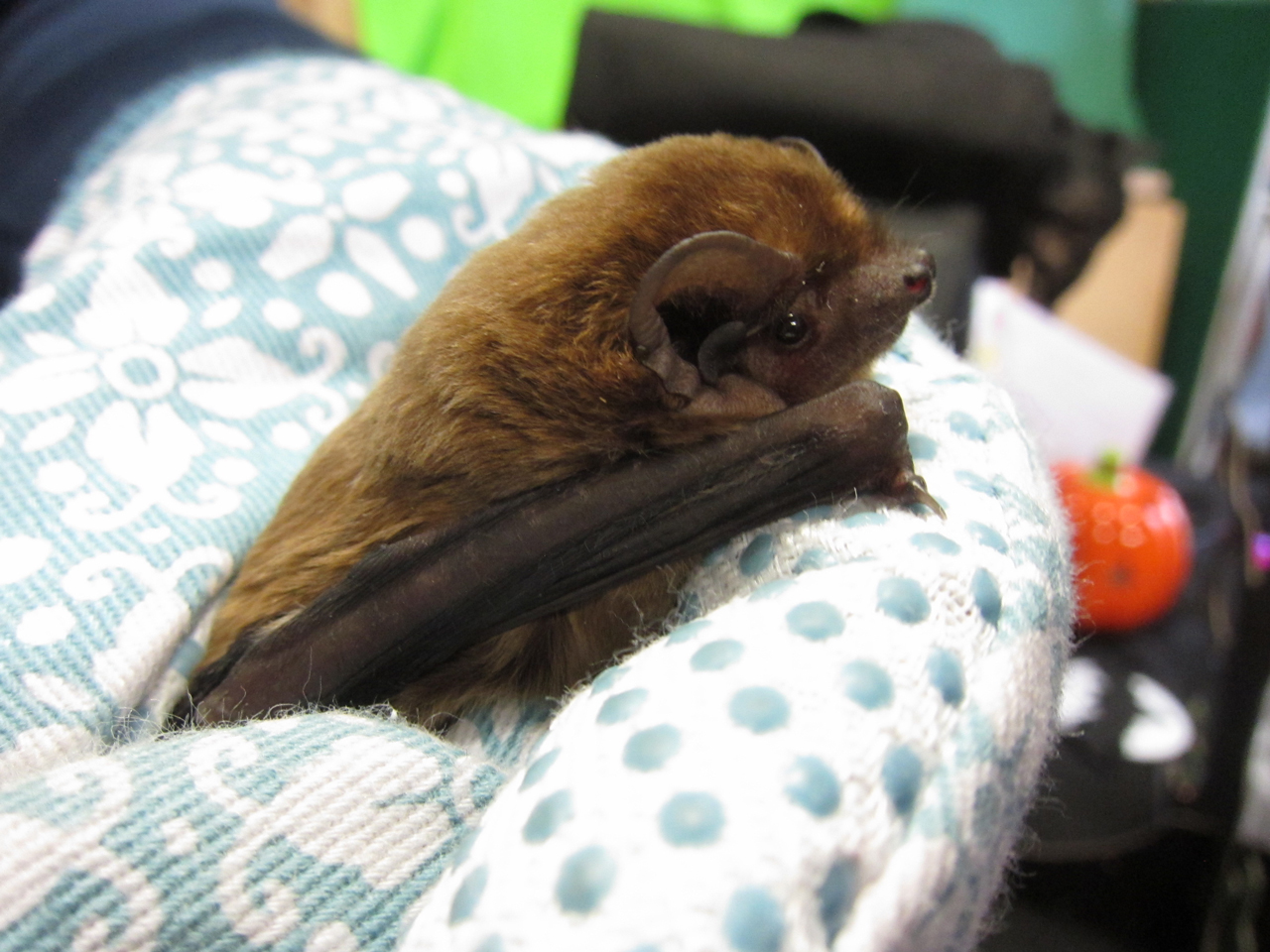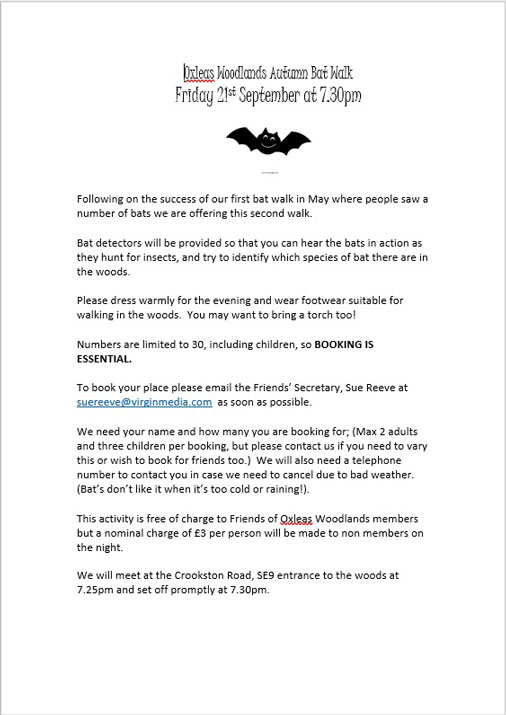 The Friends of Oxleas Woodlands will be meeting at 7.25pm on Friday 21st September. Again, booking is necessary, with details given on the Friends' poster:
Following on the success of our first bat walk in May where people saw a number of bats we are offering this second walk.
Bat detectors will be provided so that you can hear the bats in action as they hunt for insects, and try to identify which species of bat there are in the woods.
Please dress warmly for the evening and wear footwear suitable for walking in the woods. You may want to bring a torch too!
Numbers are limited to 30, including children, so BOOKING IS ESSENTIAL.
To book your place please email the Friends' Secretary, Sue Reeve at suereeve@virginmedia.com as soon as possible.
We need your name and how many you are booking for; (Max 2 adults and three children per booking, but please contact us if you need to vary this or wish to book for friends too.) We will also need a telephone number to contact you in case we need to cancel due to bad weather. (Bat's don't like it when it's too cold or raining!).
This activity is free of charge to Friends of Oxleas Woodlands members but a nominal charge of £3 per person will be made to non members on the night.
We will meet at the Crookston Road, SE9 entrance to the woods at 7.25pm and set off promptly at 7.30pm.
Seeing our open spaces at night, and the views over the lights of London, is enjoyable even if the bats don't co-operate, but let's hope they do!