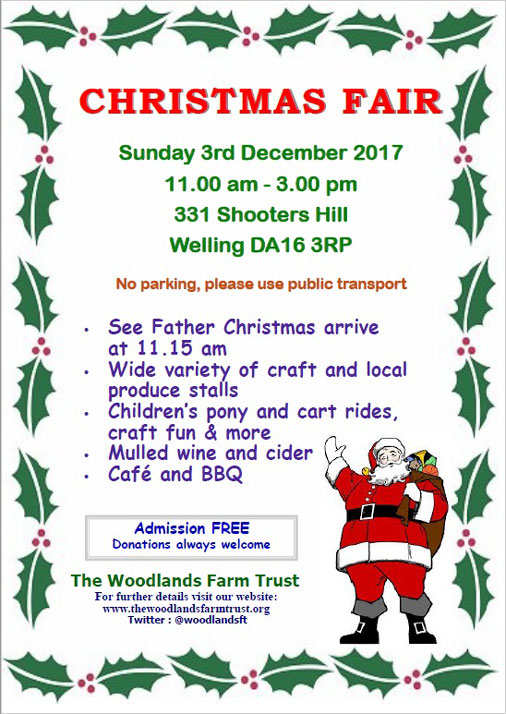 Father Christmas makes his annual visit to Woodlands Farm on Sunday when they hold their Christmas Fair. Maureen from the farm wrote with details:
All are welcome at the Woodlands Farm Trust Christmas Fair.  Come and meet Father Christmas, sip mulled wine whilst browsing stalls of local produce and crafts for early Christmas present ideas, or relax in our café while the kids enjoy crafts and games.  A great festive day out for all the family.  Entry is free, but donations are welcome – all money raised helps us to care for our animals. A great family day out!
Admission is free, though donations are welcome, and the event runs from 11.00am to 3.00pm.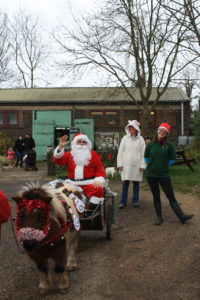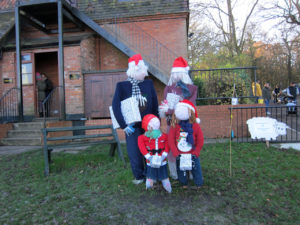 Apologies to regular readers of e-shootershill that the blog has been unavailable for the last few weeks.  Our hosting company decided to cease trading and we've had a few technical difficulties moving the site to a new host. There's still one or two things to sort out, for example not all images are displaying at the moment, but we'll get those fixed as soon as we can.
In the meantime here's a couple of photos to prepare you for Sunday: some of the Christmas craft gifts created by farm volunteers, including the snowmen with wonderful trompe-l'œil carrot noses and one of the farm's sheep in the snow. Newshopper are reporting that London might have snow in the next couple of days.