Spring has sprung at last and our green spaces are shooting and blooming. Parts of Oxleas Wood are carpeted with Wood Anemones, and the first Bluebells have appeared. Next Sunday, 5th May, there are two opportunities to enjoy a walk in our woodlands guided by experts.
In the morning, starting at 10.15am Woodlands Farm are hosting a Late Spring Wildlife Walk. As their poster says:
Sunday 5th May 2013 10.15am – 12.30pm
Winter was not behind us when we had our last spring walk. But at last the blossom is out in the hedgerows and lambing is finished! So put a spring in your step and enjoy a community countryside and wildlife walk around Woodlands Farm. Led by members of the Woodlands Farm Trust. Please wear appropriate clothing including sensible footwear. The walk will probably be a bit challenging for buggies but supervised children are very welcome.
£1 per person (under 18's free)
Free for farm volunteers and members
Meet at the Education Centre
The Woodlands Farm Trust
331 Shooters Hill, Welling, Kent DA16 3RP
Website: www.thewoodlandsfarmtrust.org
Email: wildlife@thewoodlandsfarmtrust.org
Tel: 020 8319 8900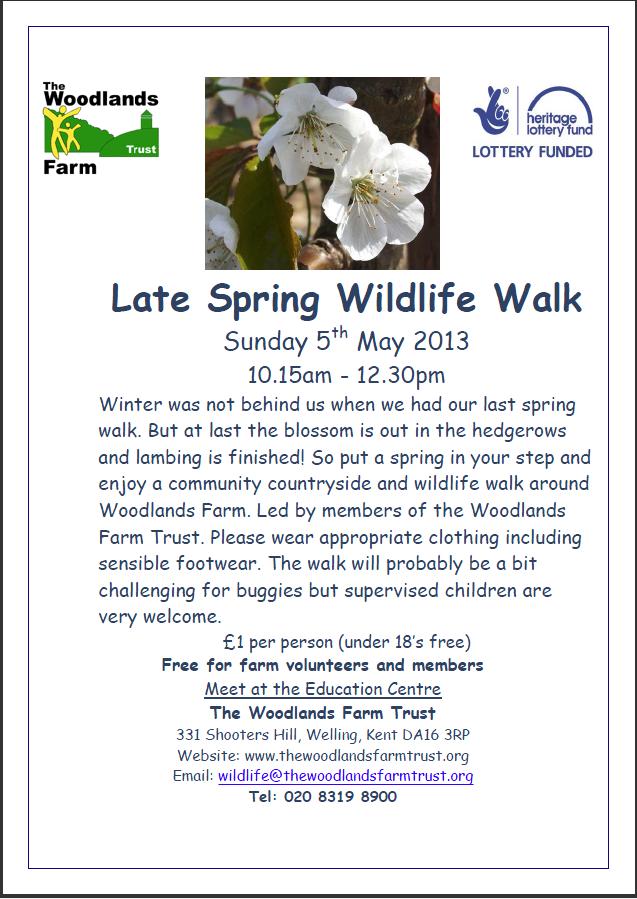 Then in the afternoon, meeting at 2.00pm at the Oxleas Cafe, there's a Bluebell Walk guided by the London Wildlife Trust. If it's anything like last year's walk participants will learn about much more of the flora and fauna of Oxleas Wood than just the Bluebells. It is expected that the walk will last 1 to 2 hours, but participants can join or leave at any time.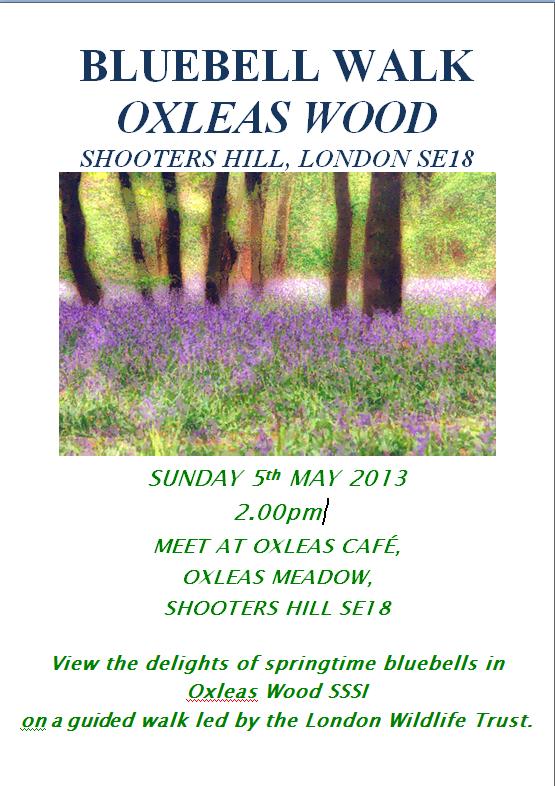 Those who have lots of energy could do both walks, maybe fortified by a bacon butty from the Oxlea Wood Cafe.