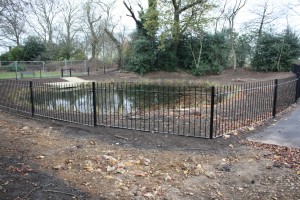 I noticed yesterdayday that the work on the Lilly Pond in Eaglesfield Park has passed a significant milestone –  the pond has been filled with water. In addition, as you can see in the photograph above a pond dipping platform has been constructed, the railings have been replaced with brand new ones,  most of the paths have been re-tarmaced and planting around the edges has been completed. Well done Friends of Eaglesfield Park!
The original Friends' leaflet about the proposed work included the following list of improvement work:
Construct a pond dipping platform;
Turn the lawn area adjacent to the pond into a wildlife garden, providing habitats outside as well as inside the water. (wild flower; native shrub; loggeries; deadwood; sawdust; grass cuttings; bare ground; sand);
Create an outdoor study area with seating and a hard surface for local school/youth groups to contribute to plans for an improved environment in London;
Improve the signage including directions and information signs;
Repair the railings around the pond;
Improve access, specifically from the southern entrance;
Establish a management plan;
Points 1, 5 and 6 appear to be complete, though not the others. I wonder if this is still the plan, or if it has been changed to allow for the proposed outdoor gym? Maybe they'll even replace the Mulberry tree!
Incidentally many documents seem to have disappeared in the re-design of the Greenwich Council web site, including the draft Eaglesfield Park Management Plan, which breaks some links in earlier posts. The entry on Eaglesfield Park doesn't mention the Friends, but instead has an incorrect reference to the Friends of Plumstead Gardens. Teething problems, I guess?
Here is the sequence of photographs showing the work on the pond progressing, including the two from my earlier post.