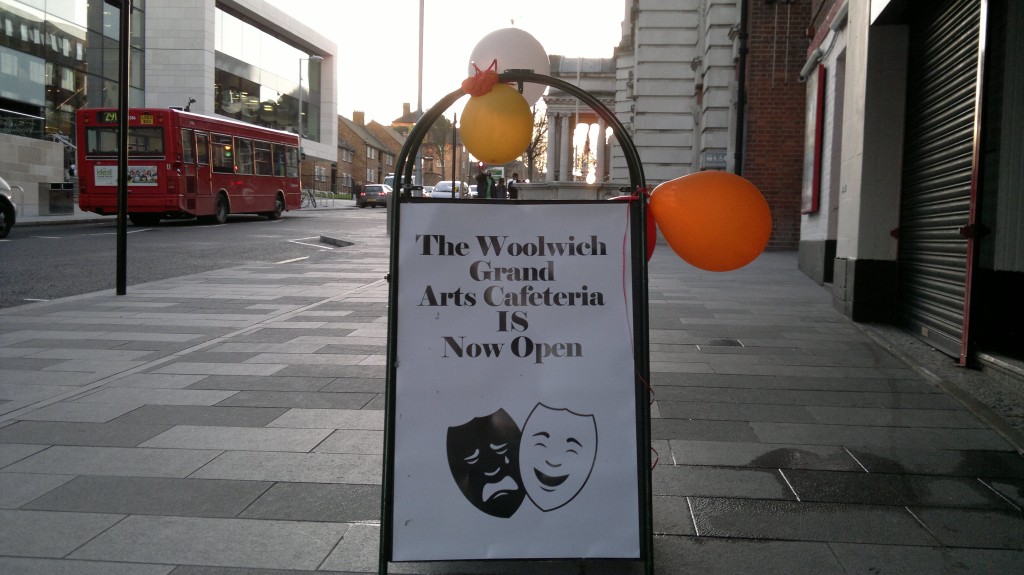 The Woolwich Grand Theatre is open for Grand Tours tomorrow (28th January) – providing an opportunity to see the parts of the theatre that the public rarely see. As Theatre Director Adrian Green explains in his Facebook message:
The Woolwich Grand Theatre will be holding an open day on the 28th of January from 10am to 4pm for everyone to come and have a grand tour of the building, boiler room, the upper circle projector room and other areas of interest to you. Come and join us and have a lovely cup of tea. We will be charging £6 per person.
This follows the musical fund raiser last Friday and the opening of the Arts Cafeteria on Wednesday.
The music last Friday was superb. An excellent  acoustic Candythief unplugged set, including songs from the Partisan CD was followed by a rumbustious Mr Ron Jetson on a very expensive piano accompanied by violin and saxophone. The evening concluded with the amazing voice of the Falsifiers' Liam Ings-Reeves, whose deep, gravelly, bluesy versions of the chain gang song Another Man Done Gone and the spiritual Wade in the Water contrasted with a gentler Jess Hannar solo. The whole evening well lubricated by Adrian's jokes.
Adrian said that he will invite these musicians back to the Grand in future. I'll be looking out for that; they're definitely worth seeing and hearing again.
Next at the Grand is a music and poetry evening on Friday 17th February:
The next event will be Friday 17th February, we will be holding a comedy and music evening featuring warm up comedians, two bands and a poet, details to follow. After being allowed to open this will be our last free performance evening for now.
It's great to see the Grand getting going.