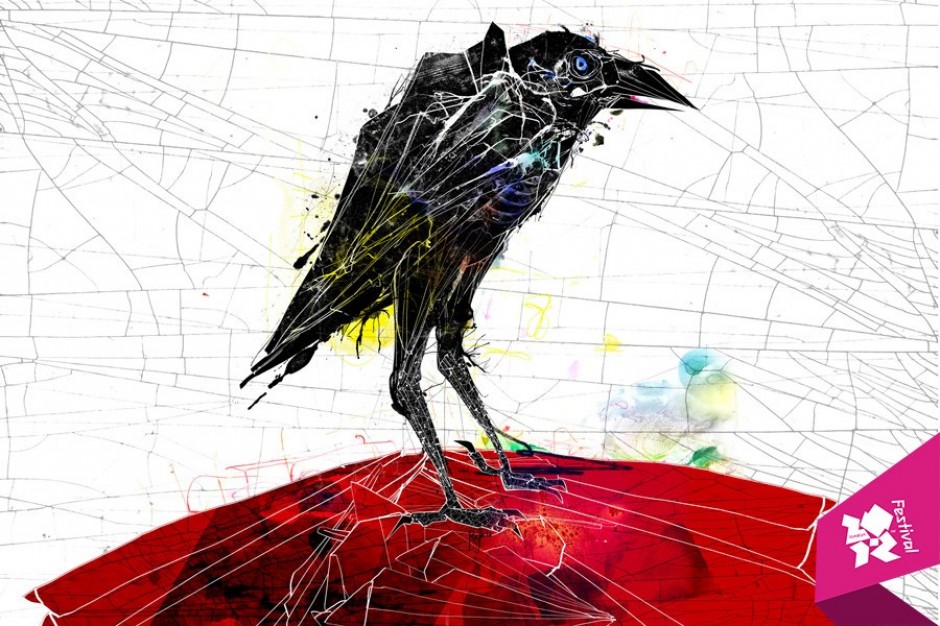 Crow is the third Handspring Puppet Company production that I've seen, and it's very different to the other two. In War Horse it was easy to forget the people operating the horse puppets, and marvel at their subtle rendering of  small details of horse behaviour that made it possible to suspend disbelief. In Or you Could Kiss Me the puppeteers were harder to overlook as there were three for each three-quarter life sized man puppet and they sometimes seemed to be part of the play, like a medical crash team around a dying man. But sometimes their use of puppets put a spotlight on an aspect of reality such as the frailness and creakiness of old age.
In Crow the different crow puppets highlight different aspects of Ted Hughes poetic vision of the Crow, from a frail, skeletal creature struggling to be born to a nightmarish priapic wingless man-bird engaged in aggressive sexual pursuit. The word puppet just doesn't do justice to these creations.  In Crow the puppeteers are completely engaged in the action- dancing and reciting the poems as well as manipulating the Crow creations.
It would be impossible to present the whole of Ted Hughes long and multifaceted mythic masterpiece in just over an hour, but I think Handspring have created a congruent synthesis of  poetry, music, movement and setting that captures its essence. The set is bleak and monochrome, post-apocalyptic, with a central hill composed of a kind of metamorphic material that might have been melted in a nuclear holocaust and re-solidified. Ben Duke's choreography is not graceful, but is danced with hugh energy and commitment, complementing Hughes' poems. During Crow's birth it reminded me of tribal dancing seen on a holiday in India, and there was a hint of deep didgeridoo tones  in Leafcutter John's sparse music which added to the ancient primitive feel. Later a courageous, dangerous leaping embrace at the top of the hill was the perfect match to Lovesong's story of obsessive, competitive, dangerous love.
Although the production of Crow is dark and stark, Crow is ultimately a survivor ….   the final lines of Examination at the Womb-door:
Who is stronger than hope?      Death.
Who is stronger than the will?     Death.
Stronger than love?     Death.
Stronger than life?     Death.

But who is stronger than Death?

Me, evidently.

Pass, Crow.
Handspring UK's production of Crow is part of the Greenwich+Docklands International Festival (GDIF).  It is on at the Borough Hall in Royal Hill until 7th July 2012, tickets from Greenwich Theatre. Not to be missed.