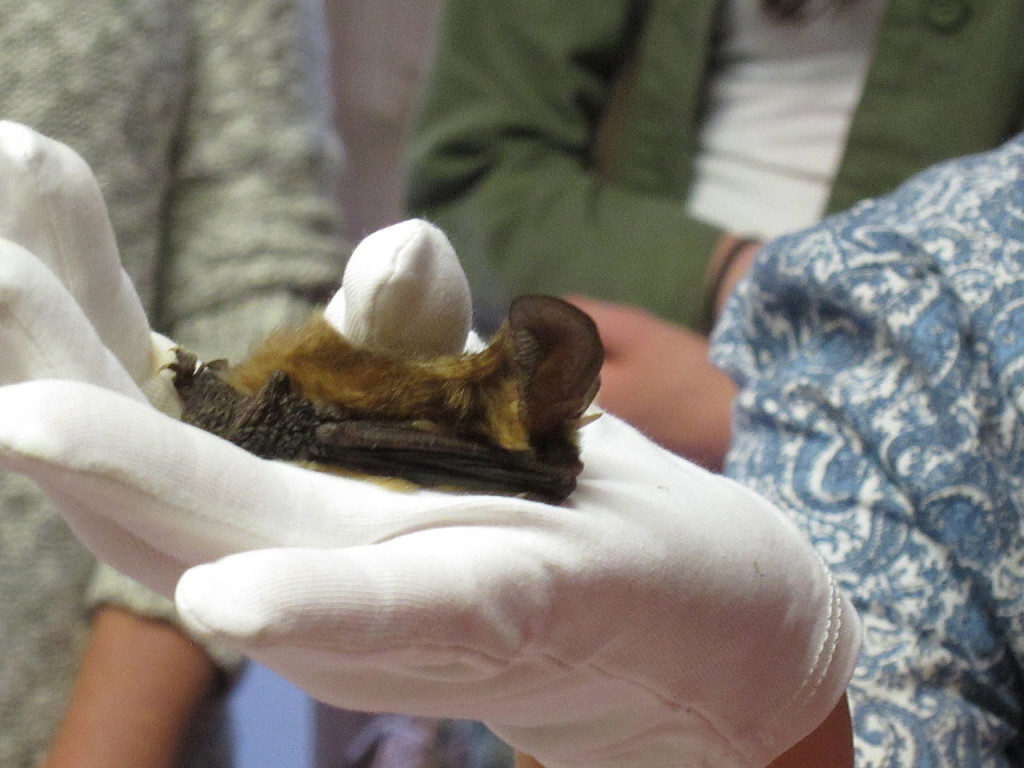 Next weekend, 27/28 August, is International Bat Weekend, which is marked by batty events across the world. Locally both Woodlands Farm and the Friends of Shrewsbury Park are holding bat walks in the coming weeks, and London's Bat Fest is being held over the weekend at Woodberry Wetlands in Hackney.
There seem to be plenty of bats around this year. The NBMP field survey at Woodlands Farm in July detected quite a few pipistrelles and some noctules. Pipistrelles have also been detected at the Wide Horizons Constitution Rise woodland, Manor House Gardens, Hall Place and Hervey Road sports field. Even normally sterile Canning Town had more than its usual solitary pip in this year's NBMP survey. However the waterways survey along the River Cray at Hall Place once again found no Daubenton's bats.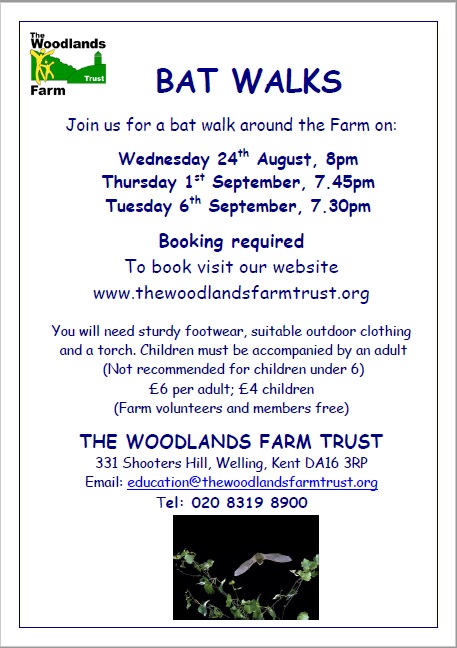 Woodlands Farm's bat walks will be held on Wednesday 24th August and Thursday 1st September. Maureen from the farm wrote with details:
Join us for our annual bat walks. Starting with a brief introduction to bats we will then go on a walk round the farm trying to see and hear bats using bat detectors. You will need sturdy footwear, suitable outdoor clothing and a torch. Children must be accompanied by an adult (not recommended for children under 6 years). £6 per adult, £4 per child (under 16 years). To book go to http://www.eventbrite.co.uk/o/the-woodlands-farm-trust-8448478250
The Friends of Shrewsbury Park bat walk is on Friday 2nd September at 8.00pm. Kris sent me details:
Meet in the car park for an introduction from bat-wise FSP members who will lead this adventure through the Park using our eyes, ears and bat detectors!
The walk is free to members and £2 for non-members (but you can join on the night). Please wear appropriate shoes and clothing for the weather and paths. Children must be accompanied by an adult. And dogs must be kept on a lead.
The walk lasts about 1 1/2 hours and a torch is useful.
The car park may still be open but not at the end of the walk so remember to leave cars outside of the Park. If you have any mobility queries please contact us on fspdog@hotmail.com and we will help you participate.
If it rains neither the bats nor us will be coming out!
Let's hope it stays dry for all the bat walks!