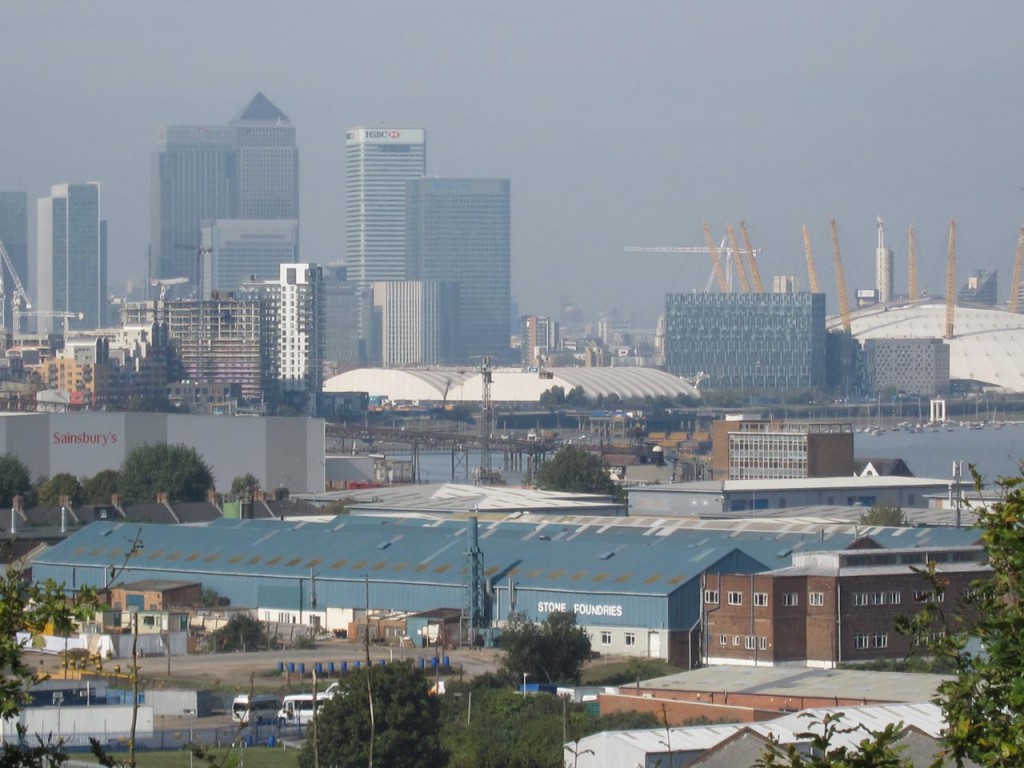 There are some very interesting sounding walks in Walk London's Winter Wanders this weekend – "Secret Diaries and Public Spaces – The Legacy of Pepys and Wren and Hidden Alleyways" and "Courtyards; Printing, Priories and Prisons – St Pauls to Chancery Lane" both sound fascinating. But the one that really caught my eye was the walk led by our old friend Ian Bull: "The best landscape and views in London – Charlton to Plumstead via Shooters Hill". This is a great walk with an added bonus: an opportunity for an exclusive guided tour of Severndroog Castle (costing  a very reasonable £2.50) and a chance to see the amazing views from the top.
The Walk London web site describes the walk:
This special walk, historically Walk London's most popular, was first devised to demonstrate that you can walk through London without realising that you are in a city. It still does, but this time there's a bonus that turns an excellent walk into an unforgettable experience that you'll want to return to.
The walk takes us through wonderful parkland, heathland, and dense woodland to a very special place that offers stupendous views rivalled only by the Shard. Yes, after years of tireless fund-raising and painstaking restoration Severndroog Castle can at last accept visitors. The walk will feature an exclusive guided tour of this perfectly formed historic building which has an important and intriguing past. The building also has views over London 'to die for' and some visitors really do gasp at their first sight of the breathtaking vista. The 'Castle' is usually closed at this time of year and is being opened specially for Walk London.
We start by traversing a most pleasant complex of parks which include a principle location from the cult 1960s film 'Blow up'. Shortly afterwards we'll pass some comfortably large animal enclosures, one housing a small Deer Herd which has been present for over a Century. Gentle climbing via Charlton Common takes us up onto the openness of Woolwich Common with distant views of Essex farmland, it's wildness then giving way to the dense woodland of the flanks of Shooters Hill. We climb a little more steeply now for Shooters Hill is very nearly as high as the highest part of Hampstead Heath. Suddenly, in Castle Wood, the trees part and before us is the well proportioned tower of Severndroog Castle and our private visit.
After visiting Severndroog Castle those who have done enough in their day, just over 4 miles, may wish to retire to the nearby bus stops. Those wishing for more wonderfully dense woodland and wide vistas are welcome to continue around Shooters Hill for views over huge swathes of Kent, Surrey, Essex and the Thames Estuary. We'll then drop down steeply to Plumstead Common for buses into central London and finish at Plumstead railway station for trains.
PLEASE NOTE. Severndroog Castle has been saved by a small charity with limited resources and they cannot be expected to open and guide us around the building without some recompense. The usual admittance charge of £2.50 will have to apply. If ever there was a bargain this is it, for you can see seven Counties at a tenth of the price of a visit to the Shard.
The route is steep in parts, contains many steps, and depending on weather conditions it may be muddy. We will be very high up by London standards and warm, windproof, clothing and gloves are most strongly recommended. A packed lunch is essential and, if you have them, binoculars are a must.
There's no need to book but feel free to ask the Walk Leader, Ian Bull, for more details. Email, ianbull@btinternet.com  Phone, 020 7223 3572.
The weather forecast for Sunday looks good for walking and viewing, so it should be a great experience. And if it's done by 2.00pm there's a members' meeting down the hill at Woodlands Farm to go to.