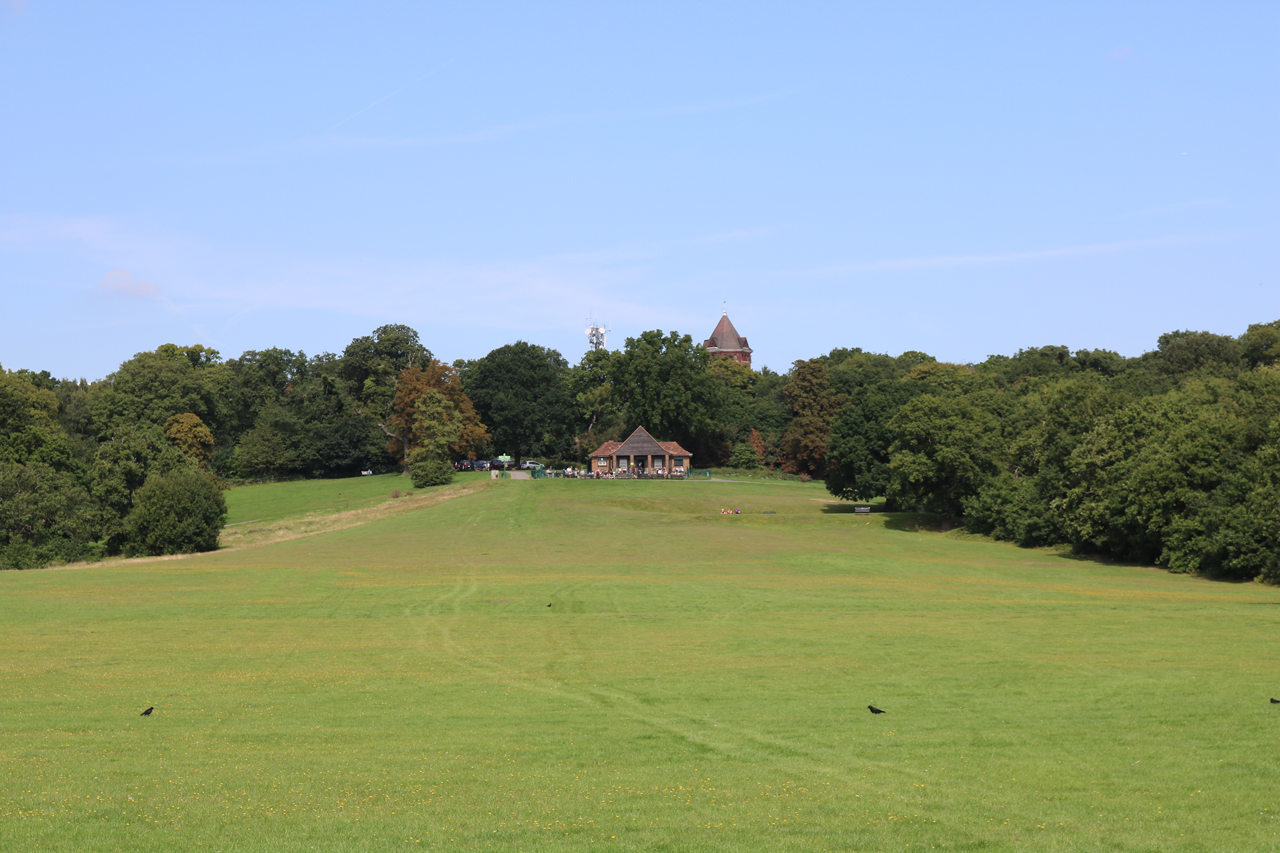 Bat walks, local history walks, rose garden restoration, woodland conservation and litter picking: the Friends of Oxleas Woodlands have been very active since their formation at the end of last year. Sue, the Friends' secretary, wrote with an update:
As you know we have had a couple of Bat walks and Houses in the woods walk; which we are planning to offer again, weather permitting. We also have our regular activities, the litter collection once a month; the Saturday and new weekday conservation sessions with the Shooters Hill Woodland working group and a new gardening project to re-establish the rose gardens at Jackwood and Castle woods. I have attached a poster about this project including the dates of forthcoming gardening sessions.
Our activities have been developed in response to our members' requests and we are really fortunate to have knowledgeable members who have been able to lead walks and deliver interesting talks on a range of subjects.
Up until now we have been able to open up all our activities to non members as well as members but with our large and growing membership (currently we have 92 members), we are needing to prioritise some activities such as the Walks to members (their friends/families) only. So far, we have not had to turn people away; we have just had to repeat the walks! Needless to say, we are always grateful for volunteers to work with us on the regular gardening, litter collection and conservation activities.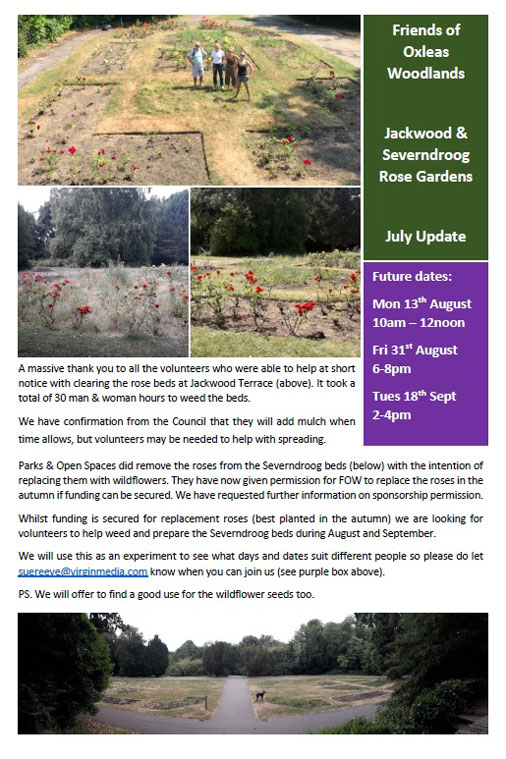 The poster reads:
A massive thank you to all the volunteers who were able to help at short notice with clearing the rose beds at Jackwood Terrace (above). It took a total of 30 man & woman hours to weed the beds.
We have confirmation from the Council that they will add mulch when time allows, but volunteers may be needed to help with spreading.
Parks & Open Spaces did remove the roses from the Severndroog beds (below) with the intention of replacing them with wildflowers. They have now given permission for FOW to replace the roses in the autumn if funding can be secured. We have requested further information on sponsorship permission.
Whilst funding is secured for replacement roses (best planted in the autumn) we are looking for volunteers to help weed and prepare the Severndroog beds during August and September.
We will use this as an experiment to see what days and dates suit different people so please do let suereeve@virginmedia.com know when you can join us (see purple box above).
PS. We will offer to find a good use for the wildflower seeds too.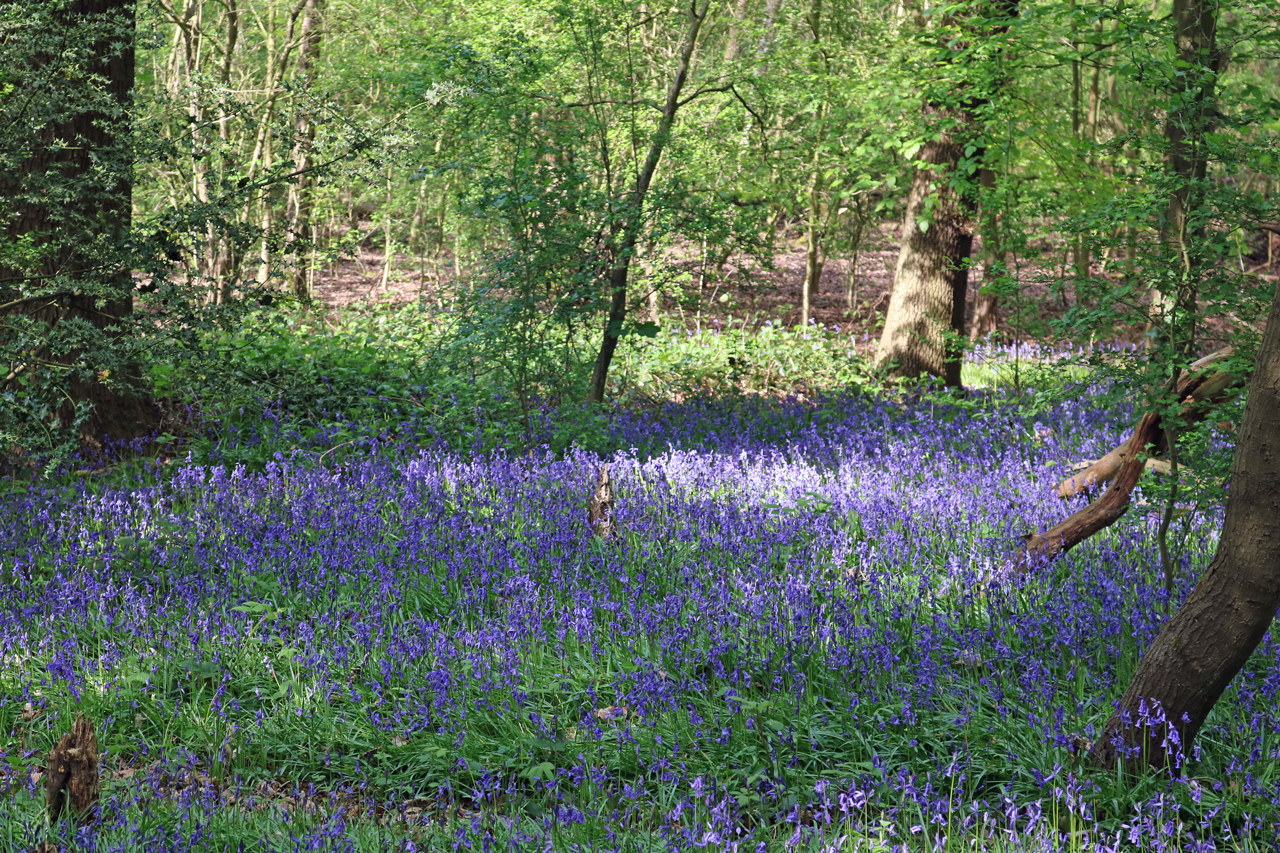 The next event that the Friends have planned is this Sunday, 14th October, when the Friends' Chair Tom Wareham will lead  a repeat of the Houses in the Woods walk. This twilight wander through the woods visits the sites of some of the great houses that used to stand in the woodlands: Castle House; Castlewood; Jackwood; Wood Lodge; Warren Wood and Falconwood. Each participant on the walk is loaned an A4 folder with pictures of the houses before they were demolished. As the appropriate points on the walk it is possible to hold the pictures up against the current scenery and see where the houses stood. What a great way of presenting local history! The stories about the houses and gossip about their occupants are fascinating.
It's very likely that Sunday's walk is already fully booked, but contact Sue on suereeve@virginmedia.com if you're interested.
The next dates for other planned Friends' activities are:
Litter collection                            Saturday 27th October 10am – 12pm
Shooters Hill Working Party Saturday 13th October 10am, Friday 19th October 10am – 3pm
Rose beds & bulbs                      Sunday 4th November 10am-12pm,  Friday 9th November 2pm-4pm
Again, contact Sue for more information. The next members' meeting is planned for 7.30pm on Tuesday 4th December in Shrewsbury House.